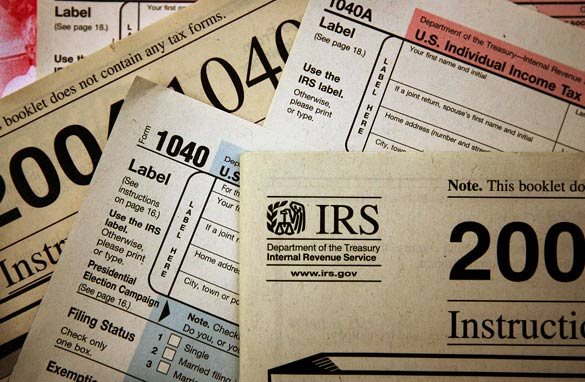 (PHOTO CREDIT: SAUL LOEB/AFP/GETTY IMAGES)
FROM CNN's Jack Cafferty:
If you know someone cheating on their taxes - and chances are you do… there may be a buck or two in it for you.
Under the Internal Revenue Service's Informant Program, you could receive up to 15 percent of the amount that's been underpaid... with a maximum award of $10 million.
Informants have to complete a claim and send it to the IRS. Informants' names aren't made public, even though they have to reveal their identity to the IRS. They also have to give a lot of detailed information about the tax cheat - including the person's social security number, address and date of birth.
In the last few years, the IRS has also started cracking down on big-time cheaters with a new whistle-blower program... which has turned up lots of tips.
It's believed the most common informants are dissatisfied middle-ranking employees in big companies. They may feel frustrated about not advancing so they turn in co-workers or bosses. Although one tax expert points out there's likely a real mix of informants - including those looking for revenge and turning in their former spouse or boss.
People snitch for various reasons, including of course the big financial payoff. Some also feel angry about others being above the law and getting away with it or feel morally obligated to turn in cheaters.
Some factors that turn people away from reporting cheats: The exhaustive amount of information required along with fear of retaliation.
But with tax season right around the corner...
Here's my question to you: Would you rat out a tax cheat to make money?
Interested to know which ones made it on air?
Rob writes:
This country is sounding more like pre-war Germany… Let's have brother turn on brother. Yes, America, you too could be a nice political policeman. Save the country and turn in that rotten next-door neighbor who makes $200,000 a year when you only make $50,000. Correct me if I'm wrong, but isn't this how class wars start?
Chandra writes:
No, given the current administration's track record for hiring responsible tax-paying citizens, I refuse to waste my time helping them find anyone else who isn't paying theirs.
Nick in San Diego writes:
Not a small-timer in the middle class, but a heavy-hitter… Yep, in a New York minute.
James in Kinston, North Carolina writes:
Rat out a tax cheat to make money? No, Jack, I would not! I love my mother.
Linda writes:
Geithner, Rangel, etc. Where do I collect my payment?
Greg writes:
Thanks for the tip, Jack. I didn't know such a program existed, but I will look it up as I expect to report an ex-spouse I told you about a couple of days ago.
Barb writes:
Why bother? It's probably taxable.
Arthur writes:
Not a chance.
Agnes in California writes:
Absolutely not! I grew up behind the "Iron Curtain" where snitching on your neighbors to the state was a daily routine. This is as immoral as one can get... And you know what? In a corrupt system like that, you never know when it's YOU who the government will go after.
Denis in Pennsylvania writes:
You're safe, Jack. I won't say a word.