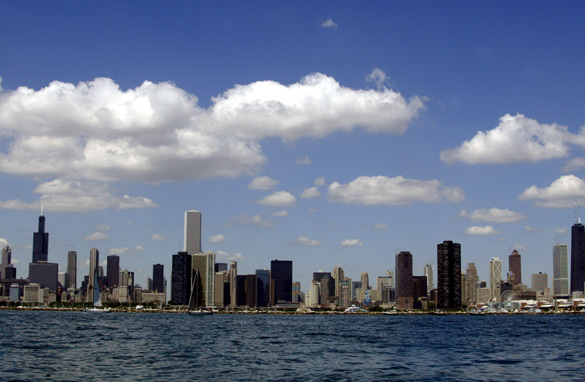 The Chicago skyline along Lake Michigan. (PHOTO CREDIT: JEFF HAYNES/AFP/Getty Images)
FROM CNN's Jack Cafferty:
President Obama needs to go "Chicago-style" on health care if he wants to get his signature legislation through Congress.
Al Hunt writes for Bloomberg News that the president hasn't been tough enough in pushing for the things he wants:
"That's not the Obama style; he tends to be patient, persistent, sometimes charming; although from Chicago, he doesn't practice the arm-twisting politics the city is known for."
Hunt goes on to say that when it comes to health care reform, time is not on the president's side. Actually - he's only got a few weeks - since the bill needs to pass before Congress goes on spring break at the end of the month.
And, Hunt writes that Mr. Obama will need to use "forceful persuasion" in order to get wavering Democrats in the House and Senate on board. Meanwhile this call for the president to use more "Chicago-style" tactics comes as critics charge the White House is loaded with too many Chicago insiders.
Almost all of the president's inner circle hails from Chicago - including chief of staff Rahm Emanuel, top advisers David Axelrod and Valerie Jarrett, and of course, First Lady Michelle Obama.
Some blame the paralysis in Washington now on the so-called Chicago mafia, saying they don't have enough experience to govern at the executive branch level. And that they're not listening to what the American people want.
In particular, many fingers are pointed at Emanuel, known as "Rahmbo" - saying he's gone too far with his abrasive manner and cursing.
Here's my question to you: Is there too much "Chicago" in the White House?
Interested to know which ones made it on air?
John in Illinois writes:
Jack, I live in Illinois and the stench of the graft and corruption can be felt all the way down in my little town of Sparta. Through back room deals with Chicago politicians, my taxes currently support bus service for Cook County 540 miles away.
Riv writes:
As someone from Chicago, I have to say I've grown weary of the term "Chicago politics". No one outside of Chicago seems to know what it really means, so it has now become shorthand for something a politician did that the speaker or writer didn't like. It's a lot more complex and nuanced than that. I don't necessary disagree with Jack Cafferty here, but I think the answers he'll get will reflect the way non-locals tend to paint with a broad brush.
Jeffrey writes:
Not enough Chicago when it mattered: at the start. He should have strong-armed through the original proposal on which he had campaigned. By leaving it up to Congress to just come up with something for him to sign, the process resulted in a bill that nobody likes and will be ineffectual at solving the problems. I don't think any amount of strong arming will get this bill passed.
Marion in Alabama writes:
Obama's main problem is he surrounded himself with "yes" people from Chicago, just like Jimmy Carter did with the Georgia crowd.
R. in Alaska writes:
Is there too much "Chicago" in the White House? Is the sky blue? That style of government doesn't belong in D.C. It doesn't even really belong in Chicago. It's 2010 after all. Personally, I'm getting real leery and very weary of the huge push to pass the health care bill. No transparency. No C-SPAN sessions. No bill available on the Internet. Many flaws. Many fights. Many excuses not to start over and get it right. Let's hope the whole bill sinks quickly beneath the waters of Lake Michigan with a few dead-weight politicians chained to it.
Connie in Huntley, Illinois writes:
Jack, In my opinion, you can never have too much Chicago anywhere.
Silas in Boston writes:
Forget Chicago tactics, Jack. It's time for Barack Obama to meet Tony Soprano.