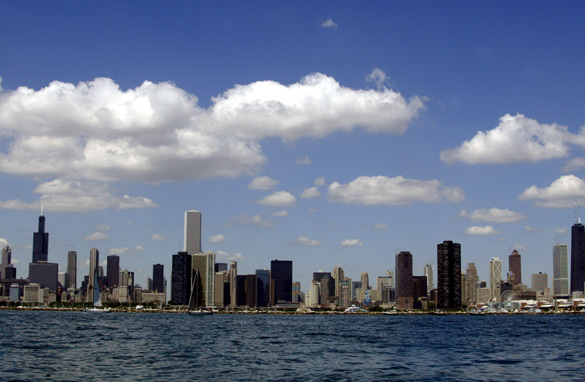 The Chicago skyline along Lake Michigan. (PHOTO CREDIT: JEFF HAYNES/AFP/Getty Images)
FROM CNN's Jack Cafferty:
President Obama needs to go "Chicago-style" on health care if he wants to get his signature legislation through Congress.
Al Hunt writes for Bloomberg News that the president hasn't been tough enough in pushing for the things he wants:
"That's not the Obama style; he tends to be patient, persistent, sometimes charming; although from Chicago, he doesn't practice the arm-twisting politics the city is known for."
Hunt goes on to say that when it comes to health care reform, time is not on the president's side. Actually - he's only got a few weeks - since the bill needs to pass before Congress goes on spring break at the end of the month.
And, Hunt writes that Mr. Obama will need to use "forceful persuasion" in order to get wavering Democrats in the House and Senate on board. Meanwhile this call for the president to use more "Chicago-style" tactics comes as critics charge the White House is loaded with too many Chicago insiders.
Almost all of the president's inner circle hails from Chicago - including chief of staff Rahm Emanuel, top advisers David Axelrod and Valerie Jarrett, and of course, First Lady Michelle Obama.
Some blame the paralysis in Washington now on the so-called Chicago mafia, saying they don't have enough experience to govern at the executive branch level. And that they're not listening to what the American people want.
In particular, many fingers are pointed at Emanuel, known as "Rahmbo" - saying he's gone too far with his abrasive manner and cursing.
Here's my question to you: Is there too much "Chicago" in the White House?
Interested to know which ones made it on air?