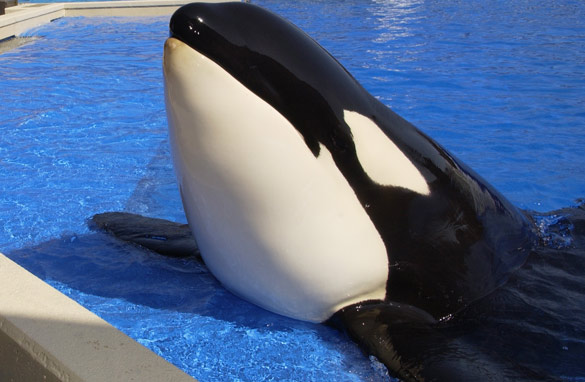 A killer whale at SeaWorld in San Diego. This is not the same orca involved in yesterday's trainer death at SeaWorld Orlando. (PHOTO CREDIT: GETTY IMAGES)
FROM CNN's Jack Cafferty:
The death of a whale trainer at SeaWorld never had to happen.
The park has canceled whale shows today and is re-evaluating safety procedures - a day after a 12,000 lb. killer whale grabbed the trainer's ponytail, dragged her underwater and killed her.
The 22-ft. long killer whale has been linked to two other deaths, including the drowning of a trainer and some idiot who apparently climbed into the whale's tank one night.
One marine biologist says in yesterday's death, the whale may simply have been trying to play with the trainer or get her attention - because that's how whales play with seals and sea lions in the wild - tossing them in the air.
She says killer whales normally live in groups with their families - and males stay with their mothers their entire lives. They rely on their family for social structure and play - and cover hundreds of miles of ocean. She says situations like this cause stress. Duh.
PETA wants SeaWorld to stop confining these animals to an area that's like the "size of a bathtub" to them... and forcing them to perform silly tricks over and over. That's not what they were meant to do here.
And this isn't just about killer whales. Wild animals are not meant to be kept in places like circuses - where there are many reports of abuse - or small cages in zoos - or forced to perform in places like Las Vegas, where a tiger attacked its handler during a Siegfried and Roy show a few years ago.
And inevitably when someone playing around with these wild animals gets attacked, it's the animal that gets put down. It ought to be the other way around.
Here's my question to you: Should wild animals be used as entertainment?
Interested to know which ones made it on air?
Dan writes:
We used to visit SeaWorld when I was a child and I remember the magical atmosphere of the place. Then I visited as an adult. I was sickened and sad. Anybody who can not see the cruelty inflicted on these creatures hardly deserves to be called human. As badly as I feel for the trainer, I feel even more sorry for the whale. Ban SeaWorld. It's no different than dog fighting.
Margaret in Omaha, Nebraska writes:
Wild animals are wired to be free and roam and do what comes naturally to them, not stupid animal tricks. If people could just put themselves in the animal's skin and think about being confined and forced to do unnatural things, I think people would no longer purchase tickets to shows with animals.
Brett in Oriskany, Virginia writes:
Many years ago, when I lived in Manhattan, some drunk climbed into the Central Park Zoo's polar bear enclosure. The polar bear did not invite the drunk to a game of hearts and open a bottle Merlot. The bear attacked the intruder and New York's finest shot. Yeah, the bear… Of course, Sea World sees neither the animal nor the human. It sees dollars. People will pay to see this whale, secretly hoping it will chow down on another trainer.
Joanie writes:
I agree with PETA and Jack. Get rid of ALL confinement and silly tricks in circuses and places like Seaworld. Wild animals were meant for the wild, not for human entertainment. It's called respect. Respect for our environment and those who share it.
Chris writes:
No. Killer whales should not be kept in captivity and used for entertainment in any way! I was watching CNN this morning and the spokesman for that particular SeaWorld was trying to convince everyone that the sole purpose for keeping these animals was for research. That is b.s. They are making money and that's all they care about! I mean I just saw a picture of a woman surfing on top of one of these animal's heads. Is that research?