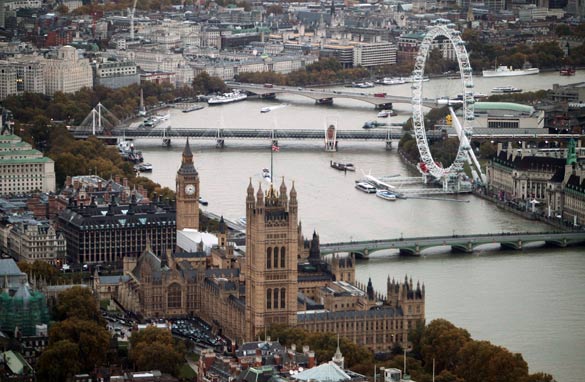 An aerial view of the Houses of Parliament and the London Eye ferris wheel. (PHOTO CREDIT: GETTY IMAGES)
FROM CNN's Jack Cafferty:
Our government is broken. It's going to spend one billion dollars of taxpayers' money to build a new, high-security American embassy in London. A billion dollars.
The 12-story, 500,000 square foot fortress will be built in the shape of a light-filled cube surrounded by natural defenses of a meadow, woodland, and a 100-foot wide moat. Yes, a moat.
The Philadelphia architect who designed the embassy says they were able to use the landscape as a security device - it's meant to protect the embassy from potential bombers and remove the need for blast barriers. Just put some crocodiles in the moat.
Construction is set to start in 2013 and be finished by 2017.
The new London embassy is being billed as one of the greenest and most eco-friendly in the world - with solar panels covering the roof and energy-absorbing material lining the building's exterior. The embassy will also be able to collect and store London's rainfall so it can be self-sufficient in water.
Which is all fine and well - but the one billion dollar price tag makes it one of the costliest U.S. embassies ever built.
Can you say tone deaf? These grandiose plans are announced at a time of record deficits and 10 percent unemployment. Millions of Americans are struggling to make ends meet, to pay for food and health care, and our government is planning for a castle-like embassy with a moat.
Here's my question to you: Is now the time for the government to announce plans for a $1 billion embassy in London?
Interested to know which ones made it on air?
Sean in Cleveland writes:
Is there ever a good time to announce the government wants to spend $1 billion on an embassy? There has got to be a cheaper, foreclosed-on castle, complete with moat, that can be negotiated for.
Greg in Virginia writes:
Solar panels in London. Good luck with that.
Karl in San Francisco writes:
You don't mention the security condition of the existing embassy. With London a hotbed of terrorist activity over the years, perhaps we don't have a choice but to build something that will keep our diplomats safe. Security seemed to be a point in your lead-in. I take it the Queen isn't renting out part of Buckingham Palace to us for this purpose so we are on our own. Right?
Brian writes:
Well, Jack, whenever a nation establishes diplomatic relations with another nation, it is customary to construct an embassy in the nation that they are attempting to normalize relations with. When did they discover this England that you speak of?
Joseph writes:
Lighten up, Jack. Projects like this represent long-term planning. During the construction period, the economy will go up, and it will go down. If we let the possibility of a short-term down cycle derail long-range projects, that would only lead to even more waste. Something like this should stand or fall on its merits, not on irrational passions inflamed by short-term rabble rousing.
Brian in Washington writes:
If the U.S. government plans to spend a billion dollars they should at least be more imaginative than a simple cube structure. Why not make the entire building look like a colossal bust of Margaret Thatcher with glowing eyes that can change color based on U.S.-U.K. relations?
Don writes:
Who's going to attack our embassy in London? "The British are coming! The British are coming!"