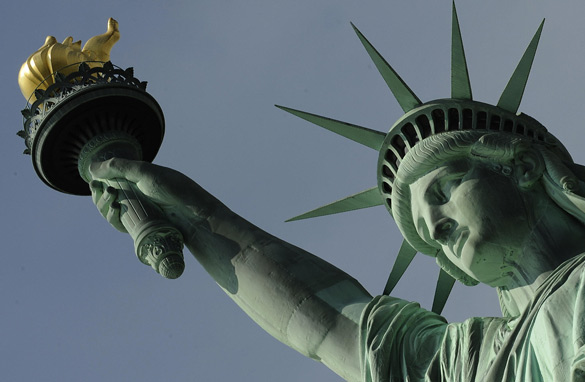 (PHOTO CREDIT: TIMOTHY A. CLARY/AFP/Getty Images)
FROM CNN's Jack Cafferty:
Almost nine in 10 Americans believe the government is broken in what is clearly a crisis of confidence in the way we run our country.
A new CNN/Opinion Research Corporation Poll shows an overwhelming 86 percent of those surveyed say the government is broken. That's an increase of eight points from four years ago.
On the plus side, of the 86 percent - 81 percent say the government can be fixed, while five percent say it's beyond repair.
According to the poll - the increase in those who say the government is broken is highest among wealthier people and those who live in rural areas. Guess what? This is the same group of people who make up the Tea Party movement.
Americans are disgusted. They're tired of politicians playing games in Washington while the country slides ever closer to catastrophe. The list of problems the U.S. faces is daunting: From the skyrocketing record deficits and the more than $12 trillion national debt, to the still fragile economy, millions of unemployed and underemployed Americans, health care, and education... just to name a few.
And on so many of these fronts - our government chooses partisanship and politics over real solutions while the problems continue to get worse. They spend their time raising money and campaigning for the next election... so they can stay in Washington and do nothing for a few more years. One day in the not-too-distant future it won't matter what they do.
Here's my question to you: Is our government broken beyond repair?
Interested to know which ones made it on air?
John in South Dakota writes:
Though our government is assuredly badly broken, it is a long way from being broken beyond repair. The founding fathers, in their wisdom, created a system that is imperfect but one that has stood the test of time despite repeated mishandling and ineptness by Congress over nearly the entire time our country has existed… Only a wholesale change in our leadership in Congress can accomplish a turnaround in our national direction. However I'm skeptical that we have the conviction and bravery to take this necessary step.
Cyle in Dublin, Pennsylvania writes:
Jack, Yes, it's broken beyond repair. But this is the government we deserve. Voters don't educate themselves to the issues. We vote for the candidate who slings the most mud or who looks better on TV. Washington has turned into the Jerry Springer Show because, deep down, that's what the average American will vote for.
Aldo writes:
The system is not broken, but the people running it are. We need to limit how long politicians serve.
Dennis writes:
If you want to talk about a broken government and country, try what Abraham Lincoln faced and yet we survived and flourished in time. We'll solve this problem.
Nathan writes:
What truly seems broken beyond repair is common sense within our American society. We want no deficit spending, but how dare the government cut Social Security or Medicare. We want no new taxes, but we complain when cops are laid off. We say "kick out all the incumbents," but then routinely give our local congressman high marks. In other words, we each think that we're OK, but that our neighbors are sucking the country dry. What appears to be fundamentally broken is our collective logic.
S. in Tennessee writes:
The government is a train wreck and should be treated as such. Clear the debris, salvage what you can and lay some new transparent rail.