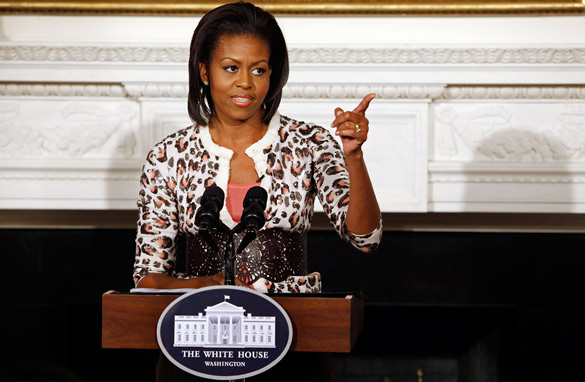 (PHOTO CREDIT: GETTY IMAGES)
FROM CNN's Jack Cafferty:
The first lady is going "there"...
Michelle Obama is opening up and talking about race in a way that her husband hasn't so far.
Politico reports that while Pres. Obama hasn't been as willing to talk about how policy affects minority communities, the First Lady frequently brings up issues of race, region and inequality.
For example, she recently announced a campaign against childhood obesity. While it's a problem everywhere - one-third of the nation's children are either overweight or obese. Mrs. Obama points out how it's a particularly serious issue for black and Hispanic kids. She also talks about the lack of healthy food options in some inner city neighborhoods.
And in other speeches or interviews, Michelle Obama has talked about how many inner city neighborhoods are just plain unsafe.
Some believe that the First Lady is serving as a bridge from the White House to the African-American community, much like she did during the campaign.
As a candidate, Barack Obama shied away from talking about race... with the exception of that big speech he made in Philadelphia after the incendiary comments of his pastor came out.
Many supporters have been disappointed since he's taken office - saying the president hasn't lived up to the image of the first big city, urban president. A former community organizer in Chicago, it must be assumed President Obama is well aware of the problems of the inner cities. And while it's true he's created the white house office of urban affairs, he hasn't laid out a clear agenda for problems in these communities.
Here's my question to you: Why is first lady Michelle Obama more open to talking about race than her husband?
Interested to know which ones made it on air?
Darryl writes:
Being an African-American, I know that speaking up concerning race would only bring more hatred to the president. I believe when the members of the Tea Party speak of the "old America" they mean white people. And speaking up for the black people would only make the president's life more difficult.
Hal writes:
She's not the president. She is able to say what she wants and not have poll numbers showing that she is below 50%!
Helen writes:
Could it be because she is black and her husband is half-black? People need to remember our president did not suffer what is called the "black experience".
Bakari writes:
Much of white America is still afraid of the race debate. If President Obama shows any hint of racial solidarity, many of his white supporters will run for the hills. The White House can't afford the controversy.
Brian writes:
Obama can not be seen as overly siding with black or minority supporters, it is just a byproduct of being the first black president. A white president would not be viewed negatively if he did the same. Michelle can easily fill the gap and let minorities know that they have a voice in the White House.
Mari in Utah writes:
Oh Jack, please, why bring up race? Don't you know that what's really behind all the anger and hate from the conservatives is that Americans elected and actually like an African-American?! President Obama is not a Black president, he is an American president! He has plenty on his plate. Give him a break, already!
Frank writes:
He's the president. Everything he says is dissected and has implications. She can say whatever she wants because she has NO policy or governmental obligations. Remember when FDR's wife raised hell? We would not have had the Tuskegee Airmen without her. It's a bully pulpit. You go girl.