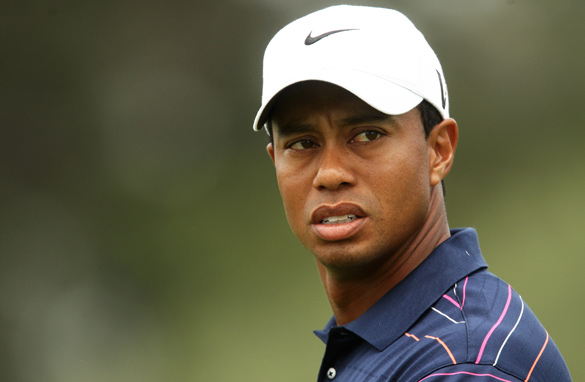 (PHOTO CREDIT: GETTY IMAGES)
FROM CNN's Jack Cafferty:
So Tiger Woods has decided to talk… just in time for the Masters.
Woods is scheduled to speak publicly for the first time tomorrow at PGA headquarters in Ponte Vedra Beach, Florida.
But there will be no questions allowed; and only a select few members of the press will be permitted to attend.
Woods will say what he has to say about the total collapse of his personal life and professional career - and then walk away, presumably expecting that to be the end of it. No questions, no need to admit more than the bare minimum - and then, bingo. Back to the business of playing golf, making millions and rescuing television's golf ratings.
Piece of cake. But my guess is it won't work.
If he's looking for forgiveness, he has to ask - humbly and with contrition. He has to answer questions about why he decided to throw away his marriage and arguably the most successful career in the history of sports for a few stolen moments. Well, a lot of stolen moments actually - with a bunch of bimbos.
In other words, he has to convince the sponsors, his fans, and his fellow golf pros that he is something besides an artificial, superficial, spoiled athlete.
If he doesn't do that, it will be a short comeback.
Here's my question to you: How can Tiger Woods rehabilitate his image?
Interested to know which ones made it on air?
Nick writes:
The fact that Tiger has the morals of a goat (and I don't mean to denigrate goats) has nothing to do with his skills and abilities as a professional golfer. His lack of integrity in his personal life (not to mention the lack of taste in the women with whom he consorted) might be of concern if it carried over to his honesty in the game, but so far as we know it does not. Perhaps these revelations concerning his low-life persona will cause him to drop his antics of cursing and throwing clubs on the golf course and show respect for the game.
Frank in Chicago writes:
All he needs to do is walk out and say that he acted like a jerk and he has paid a big price...his family and his reputation. He is no different than Kobe, Clinton, Spitzer, Jordan or a million other people, famous and not. If his sponsors choose to stick with him, that is their decision and it is my decision whether I buy their products. It is that simple.
David in Mars, Pennsylvania writes:
His family needs to judge what is unforgivable or not. Tom Watson really nailed the problem for which Tiger should apologize to the golf fans of the world: his increasingly petulant, spoiled and just plain bratty behavior on the golf course. I, for one, am tired of his second coming of the savior act. The fans pay his way, whether he likes it or not. He should treat the game and the fans with some respect.
Deb in Oklahoma writes:
He's a disgrace to the sport and his family. Retire from golf!
T. writes:
He doesn't have to, given enough time. Everyone who's gotten rich off his talent, including his wife, will beg him to play again. He doesn't owe anyone an apology except his wife. At this point I think the game needs him a lot more than he needs the game.
Ryan in Illinois writes:
Jack, he doesn't need to rehabilitate his image, just change careers. Long nights, cheap women and lots of money. He would really feel at home in the U.S. Congress.