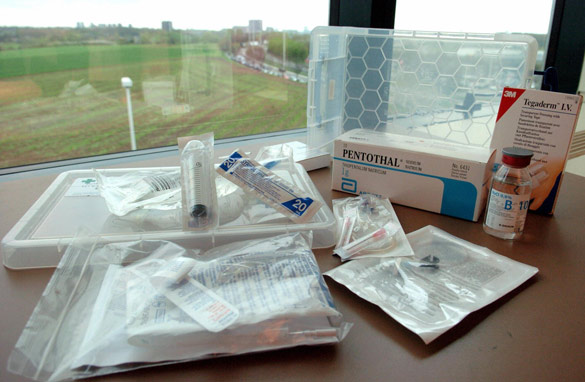 This photo, taken in Brussels, Belgium shows a so-called euthanasia kit, which is available to doctors in some countries, but not in the U.S. The kits must be ordered, picked up, and administered by the doctors themselves. (PHOTO CREDIT: ETIENNE ANSOTTE/AFP/Getty Images)
FROM CNN's Jack Cafferty:
Some Canadian doctors want their government to decriminalize euthanasia.
They say that euthanasia is already widely practiced in Quebec's hospitals; and the government should stop ignoring it. They say doctors know when death is "imminent and inevitable" and suggest there should be guidelines for medical professionals to follow in such circumstances.
Those who support what they call dying with dignity say it could apply to patients with a terminal disease like cancer, or babies born with serious medical conditions or seniors whose bodies are simply shutting down on them.
Euthanasia is legal in some countries - including the Netherlands and Belgium - while Switzerland allows doctor-assisted suicide.
Here in the U.S., Washington state and Oregon have laws that allow doctors to prescribe lethal drugs to terminally ill patients. They must be at least 18 years old and mentally competent. There is some support in Montana for a similar rule.
Euthanasia has long been a controversial issue - much like abortion - especially among religious groups. Critics worry that doctor-assisted suicide will pressure people with terminal illnesses - who may be poor or disabled - to end their lives early. Supporters insist it is a dignified way for people who are suffering to go in peace.
One of the most well-known supporters of euthanasia is Jack Kevorkian - who was dubbed Dr. Death. The Michigan doctor served eight years in prison after saying he had assisted in at least 130 suicides.
Here's my question to you: Should euthanasia be legal?
Tune in to the Situation Room at 6pm to see if Jack reads your answer on air.
And, we love to know where you're writing from, so please include your city and state with your comment.
Interested to know which ones made it on air?
Lisa writes:
I think euthanasia should absolutely be legal. I treat cancer patients, and the some of the suffering I see is heartbreaking. Changing the law would foster the type of end-of-life discussions that are not possible now.
Steena writes:
I have just started nursing school to be an RN. My first rotation has been in nursing homes. After spending time caring for patients whose bodies are failing them and seeing how miserable their lives are, I 100% support euthanasia. Quality of life should trump quantity of life, and for those who disagree, I say spend some time with a terminally ill person.
Loren in Chicago writes:
No, Euthansia should not be legalized. There are too many variables in deciding whether a death is imminent and inevitable and too many ways for persons with bad intent to fix the system to meet their ends.
Jim in Illinois writes:
Many Americans will spend most of their family's financial resources in their last year of life, then die - too often painfully. The current system in the U.S. is broken. But, sorry, I forgot, we should not even think about reforming the medical and health insurance system.
Sarah in Wisconsin writes:
No, euthanasia is murder.
M. writes:
Yes, it should be legal. For those who disagree I urge you to spend three days and nights being fully present at the bedside of four terminally ill patients in hourly rotations at a nursing home. One cannot adequately address this serious matter without witnessing the lives of those who are in the process of dying.
Tom writes:
Yes, Jack. When the vet tells you your dog is terminal and there is no quality of life ahead only suffering, you do the humane thing and put him down. Why shouldn't we show as much love and concern for a human?