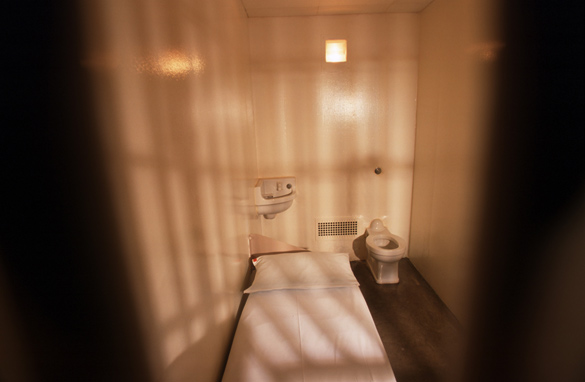 (PHOTO CREDIT: GETTY IMAGES)
FROM CNN's Jack Cafferty:
Something is very wrong when a 94-year-old man dies on death row.
The oldest inmate in the U.S. on death row died of natural causes in Arizona - according to the state's department of corrections. A lawyer for Viva Leroy Nash says the man had been imprisoned almost his entire life since he was 15 years old.
Consider his history:
Nash was sent to prison as far back as 1930 for an armed robbery
He then served time for shooting a police officer
He was sentenced to two life sentences for a robbery and murder
He escaped from prison and went on to kill again; later being convicted of first-degree murder, armed robbery, aggravated assault and theft
What a guy. Nash was sentenced to death in 1983 - 27 years ago - during which time he filed several unsuccessful appeals.
Nash's lawyer says the inmate was deaf, mostly blind, and had dementia. He insists Nash was mentally ill for decades - which should have kept him off death row.
Just imagine how much this has cost the American taxpayers.
It's estimated that death row inmates typically spend more than a decade awaiting execution with some prisoners, like Nash, remaining on death row for over 20 years.
What's more, the population on death row is aging, in part because of how long the appeals process takes.
Some experts question the constitutionality of the extra punishment of holding these inmates on death row for such extended periods of time.
Here's my question to you: What does it say about the criminal justice system when a 94-year-old man dies of natural causes on death row?
Interested to know which ones made it on air?
Kevin writes:
This is hardly surprising to those of us involved in the criminal justice system (I'm a prosecutor). While the death penalty appeals to the primal "eye for an eye" instinct in all of us, the reality is that it costs far more to execute someone than it does to imprison them for life, due to all the mandatory appeals they get. After all, lawyers can't work for free, and decades of work means a lot of lawyer's fees.
Jill writes:
All inmates should be released from jail upon serving their sentence, or age 80, whichever comes first. Statistics show that as the inmate's age goes up, his/her propensity for crime goes down.
Charles in Lawrence, New Jersey writes:
Capital punishment isn't politically correct no matter how conclusive the evidence, a result of Christian manipulation, but spending millions of dollars over decades to keep God's mistakes alive is. It provides jobs, especially in a state with a privatized prison system. Maybe it's time to make murder a federal instead of state crime, Timothy McVeigh lived less than 4 yrs. after sentencing on federal charges.
Chris in Alexandria, Virginia writes:
Like it or not, Jack, our Constitution grants everyone a system of legal checks so that we don't end up executing someone innocent. That takes time (and a lot of money). Justice would be quicker and better served by our joining the rest of the civilized world and abandoning capital punishment. Life in prison with no possibility of parole is both cheaper and can be corrected should our legal system make a mistake.
Barry in Scottsdale, Arizona writes:
If DNA is available, the inmate should be put to death after one appeal.
Rich in Wisconsin writes:
Jack, It means that the best business to be in right now is building and housing prisoners.
Lorrie in Hartford, Vermont writes:
It says they must have pretty good health care in prison. Maybe Congress should take a look at it.