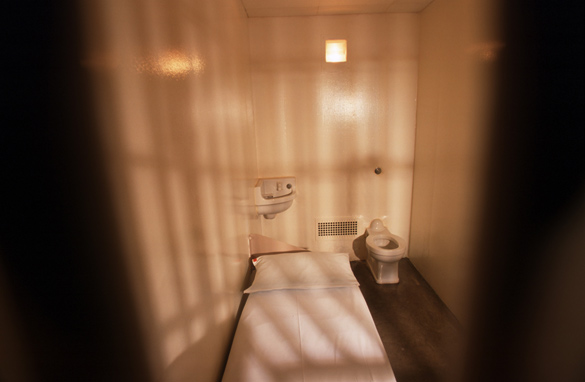 (PHOTO CREDIT: GETTY IMAGES)
FROM CNN's Jack Cafferty:
Something is very wrong when a 94-year-old man dies on death row.
The oldest inmate in the U.S. on death row died of natural causes in Arizona - according to the state's department of corrections. A lawyer for Viva Leroy Nash says the man had been imprisoned almost his entire life since he was 15 years old.
Consider his history:
Nash was sent to prison as far back as 1930 for an armed robbery
He then served time for shooting a police officer
He was sentenced to two life sentences for a robbery and murder
He escaped from prison and went on to kill again; later being convicted of first-degree murder, armed robbery, aggravated assault and theft
What a guy. Nash was sentenced to death in 1983 - 27 years ago - during which time he filed several unsuccessful appeals.
Nash's lawyer says the inmate was deaf, mostly blind, and had dementia. He insists Nash was mentally ill for decades - which should have kept him off death row.
Just imagine how much this has cost the American taxpayers.
It's estimated that death row inmates typically spend more than a decade awaiting execution with some prisoners, like Nash, remaining on death row for over 20 years.
What's more, the population on death row is aging, in part because of how long the appeals process takes.
Some experts question the constitutionality of the extra punishment of holding these inmates on death row for such extended periods of time.
Here's my question to you: What does it say about the criminal justice system when a 94-year-old man dies of natural causes on death row?
Interested to know which ones made it on air?