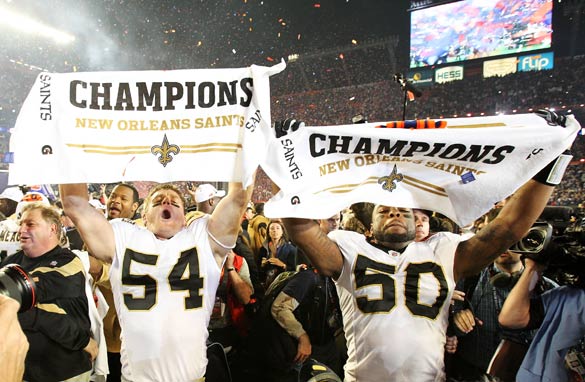 (PHOTO CREDIT: GETTY IMAGES)
FROM CNN's Jack Cafferty:
Four and half years after Hurricane Katrina devastated New Orleans, the city finally has something to celebrate in its Super Bowl victory.
Some people say the Saints' first championship win in the team's 42-year history is the greatest thing that could ever happen to New Orleans. The city's spirits have been lifted... and it promises to be a Mardi Gras season the likes of which even New Orleans has never seen before.
It's been a long time coming - a very long four years since that awful day when Katrina roared ashore and tore the life out of one of the really special cities in this country. Katrina flooded 80 percent of the city, killed 1,500 people, drove thousands more from their homes never to return, and destroyed the economy. But it didn't kill The Big Easy's spirit.
Today renewal is breaking out all over New Orleans.
The day before the Super Bowl, they elected a new mayor - the first white mayor in 30 years. He's promising to bridge a racial divide that grew wider under Mayor Ray Nagin. Mitch Landrieu won 66 percent of the vote in an 11-candidate field. A huge win in a city that is more than 60 percent African-American.
Landrieu has his work cut out for him - including lowering one of the highest crime rates in the country, rebuilding the schools; and of course, the ongoing recovery from Hurricane Katrina - including houses, infrastructure, hospitals, etc.
But today New Orleans is a very happy place. And the rest of us are happy for them.
Here's my question to you: How important is the Saints' Super Bowl victory for New Orleans?
Interested to know which ones made it on air?
Mike in New Orleans writes:
It is beyond a Super Bowl victory, Jack. It's about surviving, and then thriving. It is also about shedding an image and defying the stereotypes with which our city and our people have been branded for decades. This is a new New Orleans, and the Saints' victory makes it official.
George in Austerlitz, New York writes:
I saw a man near tears with joy on CNN this evening, all because his team had overcome the odds... at last. Winning gives people hope. It gives regular people the day-to-day courage to go on. It suggests that we too can rise above history and succeed. Our roots grow deeper with the pride of a winning team... We feel like we were a part of the victory, like we helped. We get pride and self-respect from a winning team. How important is it? Today, in New Orleans, it's everything!
Mike in Quebec writes:
Not so much! A Super Bowl win will not help build the house, put food on the table.... sure it's great. We all like our city to win a championship, but at the end of the day, nothing changes except maybe ticket prices next year.
Paul writes:
New Orleans, like Detroit, is the bellwether of problem-solving for everything that is wrong in this country. What they do, will be indicative of how the rest of the country will track.
Brad writes:
Jack, As someone who has volunteered in the rebuilding effort and experienced first-hand the resolve of the people of New Orleans, I can't stress enough how important this win is. After all the city has been though, this victory provides a sense of accomplishment, improves the local psyche and most of all, demonstrates that New Orleans is not gone, but more vibrant than ever.
Willow in Iowa writes:
It's very important. For many people in New Orleans, this is their first big sign that their world is coming back to normal, that it will be fixed. I have friends in New Orleans and the tears and the happiness over this championship are amazing.