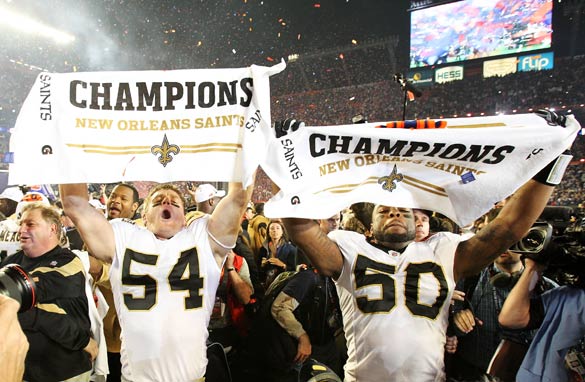 (PHOTO CREDIT: GETTY IMAGES)
FROM CNN's Jack Cafferty:
Four and half years after Hurricane Katrina devastated New Orleans, the city finally has something to celebrate in its Super Bowl victory.
Some people say the Saints' first championship win in the team's 42-year history is the greatest thing that could ever happen to New Orleans. The city's spirits have been lifted... and it promises to be a Mardi Gras season the likes of which even New Orleans has never seen before.
It's been a long time coming - a very long four years since that awful day when Katrina roared ashore and tore the life out of one of the really special cities in this country. Katrina flooded 80 percent of the city, killed 1,500 people, drove thousands more from their homes never to return, and destroyed the economy. But it didn't kill The Big Easy's spirit.
Today renewal is breaking out all over New Orleans.
The day before the Super Bowl, they elected a new mayor - the first white mayor in 30 years. He's promising to bridge a racial divide that grew wider under Mayor Ray Nagin. Mitch Landrieu won 66 percent of the vote in an 11-candidate field. A huge win in a city that is more than 60 percent African-American.
Landrieu has his work cut out for him - including lowering one of the highest crime rates in the country, rebuilding the schools; and of course, the ongoing recovery from Hurricane Katrina - including houses, infrastructure, hospitals, etc.
But today New Orleans is a very happy place. And the rest of us are happy for them.
Here's my question to you: How important is the Saints' Super Bowl victory for New Orleans?
Interested to know which ones made it on air?