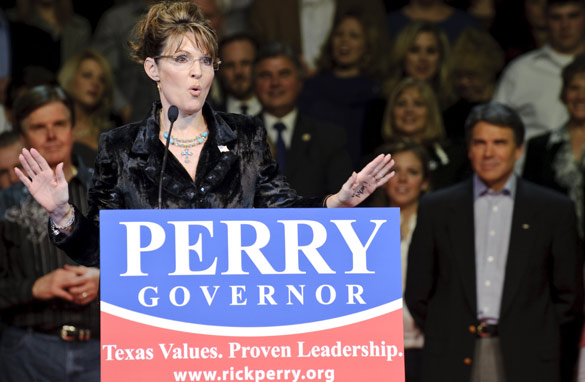 Sarah Palin spoke at a campaign rally for Texas Gov. Rick Perry yesterday in Cypress, Texas. (PHOTO CREDIT: GETTY IMAGES)
FROM CNN's Jack Cafferty:
Sarah Palin is making it clear that she's not going anywhere - and she may just have her sights trained on the White House.
The former Alaska governor says she would consider a run for president in 2012 if the situation is right for the nation and her family. That's swell.
Palin, who was woefully unprepared to be John McCain's running mate, acknowledges that she "sure as heck better be more astute on these national issues" than she was two years ago. Seriously.
And maybe that's why Palin says she's started receiving daily political and economic briefings over e-mail from various Washington experts. That should do it.
Palin delivered the keynote speech to the Tea Party convention in Nashville over the weekend. Palin used much of the speech to go after Pres. Obama on his national security and spending policies, describing him as a "law professor at a lectern," criticizing him for "apologizing for America," and asking the Tea Partiers: "How's that hopey, changey stuff working out for ya?" She even has her own language.
Meanwhile - it appears that Palin had written crib sheets on the inside of her hand, including the words "energy," "tax" and "lift American spirits" - likely for the question and answer session after her speech.
That would be the very same speech where Palin criticized Pres. Obama for relying too much on Teleprompter.
Here's my question to you: What would you advise Sarah Palin to do next?
Interested to know which ones made it on air?
John in Eugene, Oregon writes:
I would not presume to advise Ms. Palin. She should continue to be herself and let the electorate decide whether they want leadership or slogans. I cannot imagine seeing any substance here, but I remember saying that in 1980, 1984, 2000, and 2004 as well. That is all that I have to offer because I just finished washing my hands and my 'talking points' are gone.
Geri from West Virginia writes:
She should not plan another run for any public office now that the country has had a chance to see exactly how little she knows about just about everything and how little she knows about how little she knows.
Rick from Ohio writes:
Jack, She should make a large pot of moose stew, and serve it at a soup kitchen. While there, she should refrain from speaking, as there are folks trying to eat.
Donna writes:
Sarah's palm pilot is about as antiquated as the tea party.
Jarin writes:
Hopey? Changey? Go away, Sarah. The adults have work to do.
J.G. writes:
Crib sheets! So what's your point? The king of Teleprompter can't speak clearly without his, it's nothing but um, um and more ums. Go ahead and keep on bashing Palin, the more you do, the more support she gains. Is that really your goal here? The media need to stay the heck out of choosing our leaders by selectively reporting only what they want us to hear, instead of all the facts. Look where that got us, Change we can't wait to undo!
Allen writes:
Mittens, Jack. Mittens. Maybe if she can't read notes off her hand she won't run in 2012. Mittens.
James in Michigan writes:
Get a bigger left hand for the tough questions, like "Where is England?" and "What is the difference between the debt and the deficit?"