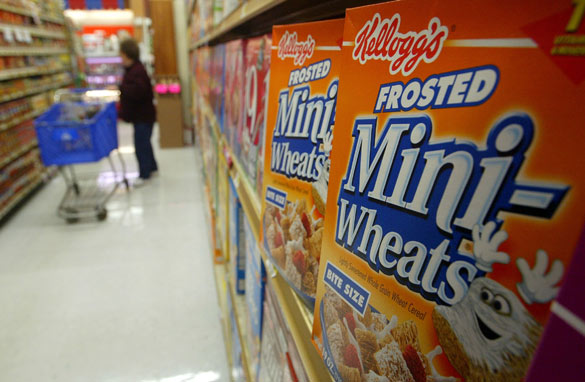 (PHOTO CREDIT: GETTY IMAGES)
FROM CNN's Jack Cafferty:
Phoenix, Arizona has approved a two percent sales tax on food. The city has a $240 million budget shortfall. So instead of laying off city workers, they have decided to tax people on what they eat. This is getting ridiculous.
It's estimated the tax on everything from milk to meat to vegetables will bring in tens of millions of dollars a year.
The tax is scheduled to last five years. The mayor says the city council could reverse its decision after hearing from the public in upcoming budget meetings.
Phoenix had been at risk of cutting close to 1,400 jobs - including 500 police and firefighters - along with closing libraries, senior centers and after-school programs.
Supporters of the tax say it's critical to keep emergency responders on the streets; and it can mean the difference between life and death. You could make the argument that eating also means the difference between life and death.
Guess who gets hit the hardest with a tax on food? The working poor, seniors and others on fixed incomes.
This tax will cause even more pain for the people of Phoenix during an already difficult economic time. Grocery shop owners worry what the food tax might do to their bottom line.
There's already an 8.3 percent sales tax on non-food items at grocery stores; and two percent of that goes to the city. But Phoenix wants more...
Here's my question to you: Is taxing a basic necessity like food the answer to filling local budget shortfalls?
Interested to know which ones made it on air?
Mike from Boca Raton, Florida writes:
Taxing a basic necessity like food is NOT the answer. What is the answer is reducing the budget shortfalls by reducing spending. In my family, in a month when I earn less money, we SPEND less. Not too hard of a concept to understand, even for a government type.
Melissa writes:
Two percent? That doesn't sound that bad. But then I live in Tennessee where I pay 8.25% sales tax on food and 9.75% on everything else. Part of that goes to the local government. And we're still broke.
Duane from Lock Haven, Pennsylvania writes:
Food is a necessity and should not be taxed. Driving is a privilege; if they have to tax something, do it at the gas pump. The way gas keeps going up no one would notice.
Victor from Baltimore writes:
So you prefer 1,400 more unemployed, more houses in foreclosure, and an increasing state and city budget gap because of falling receipts from real estate taxes. You prefer fewer cops on the streets, fewer firefighters, and fewer libraries and teachers.
Casey from Anthem, Arizona writes:
How does the city expect the people of Phoenix to get ahead with a 45% decrease in real estate and now you're taxing our food as well? Haven't we suffered enough?
Tony from Idaho writes:
Idaho slaps a 6% sales tax on all grocery purchases, which is an abominable policy. All sales taxes affect those with lower incomes disproportionately, and taxing food is especially heinous. But the conservative leaders in this ruby red state would rather increase the burden on the poor and middle class than raise taxes on the wealthy and business.
Della from Massachusetts writes:
Hi Jack. Sorry, I'm from Tax-a-chusetts so it would not bother me at all. I'm numb (ha ha ha).
Caroline writes:
What's next, taxing the air that we breathe?