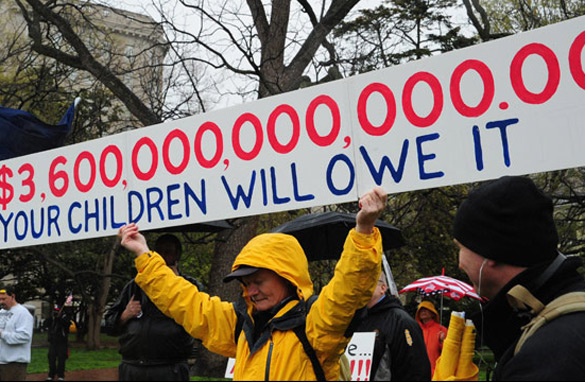 Tea Party activists are generally on the right end of the political spectrum, being fiscally and socially conservative. (PHOTO CREDIT: GETTY IMAGES)
FROM CNN's Jack Cafferty:
The one in Boston more than 200 years ago was amazing. Now there's another tea party brewing…
Hundreds of mostly conservative and independent activists are descending on Nashville, Tennessee for the first-ever "National Tea party Convention."
The movement started in small towns and large cities across the country - with people protesting against President Obama's economic and health care policies. It's grown from dozens to hundreds of loosely-linked grass-roots groups. Tea partiers have varying political views, although they generally agree on fiscal conservatism and the idea that the federal government has become too powerful.
Although the tea party movement has no national organization and no leader - it has quickly grown in size and is starting to smell a little like a political party.
Organizers say this weekend's convention is sold out, with about 600 attendees paying $550 to attend.
Some of the sessions planned include "Technology in the Tea Party Movement,"... "Defeating Liberalism via the Primary Process" and "Why Christians Must Engage."
Sarah Palin, the keynote speaker, is reportedly being paid $100,000 - although she insists she won't "benefit financially" from the event. Palin says anything she makes from her appearance will go "right back to the cause" - whatever that means.
But other high-profile speakers and activist groups have dropped out. Critics say the average tea party-goer can't afford the tab for a "lobster and steak dinner in a fancy hotel," they say it sounds more like a "regular Republican fundraiser" than like a tea party.
Here's my question to you: How seriously do you take the tea party movement?
Interested to know which ones made it on air?