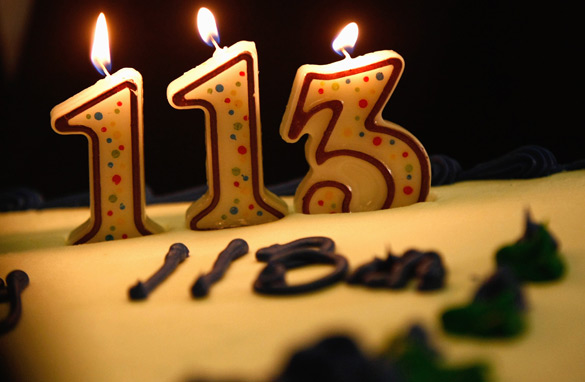 (PHOTO CREDIT: GETTY IMAGES)
FROM CNN's Jack Cafferty:
Imagine taking a pill that could help you live to be 100 years old.
Scientists expect such a drug to be ready for testing within three years; and they claim the pill could revolutionize aging.
Here's the deal: Researchers have identified three so-called Supergenes that allow those who have them to live to 100 years.
Two of these genes produce what is referred to as good cholesterol, which reduces the risk of heart disease and strokes. The third gene protects against diabetes.
People born with these three genes are 20 times more likely to reach 100 years old - even if they're overweight, heavy smokers, have a bad diet or don't exercise. In other words - they can maintain these unhealthy habits and still live longer. Those with these three genes in their DNA are also 80 percent less likely to develop Alzheimer's disease.
Now that scientists have identified these Supergenes, they're trying to develop a pill that will duplicate those genes so anyone can live that long.
Experts say this will eventually mean longer and healthier lives for millions of people.
However, the social implications of something like this are immense. We are already overpopulating the planet. And just think about the costs of Social Security, Medicare, etc. if more and more people start making it to 100.
Here's my question to you: Would you choose to live to be 100?
Interested to know which ones made it on air?
Ross from Las Vegas writes:
Oh this is spectacular. Wasn't science worried about overpopulation and sustainable development? Now we're going to keep people here longer so we can consume as much as possible over a longer period of time? I choose to go when my time comes, not when some scientist decides I should.
Rose from Pennsylvania writes:
Yes, if I knew my five children and their families would live as well, that my husband and our closest friends would take the pill too. It is a terrible thing to outlive one's loved ones, especially one's children, and that may be a severe price to pay for such longevity.
Joe in Rock Hill, New York writes:
Jack, This planet is too populated and I can't see why in the world anyone would want to live that long...I'm calling Dr. Kevorkian if I make it to 80!
Lew from Florida writes:
I would absolutely take the pill. That's about how long I need to live and continue to work in order to retire.
Buddy writes:
I would take the pill and give it to my family. Due to the potential social implications mentioned in the article, I wouldn't want anyone else taking it.
Buck writes:
He did not drink nor smoke nor chew.
His morals were not bad.
Nor did he live to see 100...
He only felt he had!
Bertha writes:
Jack, Years ago I remember my Daddy saying, "I don't mind dying. I just don't like the idea of not being alive." I'm with Dad on that. I'd love to live to be 100 if I still had a good, reasonably healthy quality of life. Sure.
Gordon writes:
No. I'm crowding 90 and old age is no fun.
Mike writes:
Damn right, I would! But you, Jack and Wolf, have to take the pill as well. Without you both, won't be much fun. If I could make it to 200 with two pills, I'd take two!
Kevin from Philadelphia writes:
I plan on living to 325. So, yes.