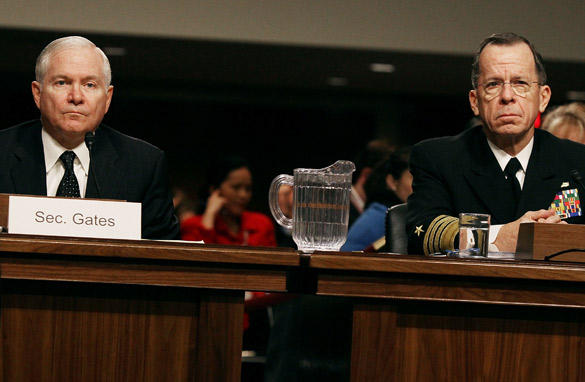 Defense Secretary Robert Gates (L) and Chairman of the Joint Chiefs of Staff Adm. Michael Mullen (R) participate in a Senate Armed Services Committee hearing. The committee is reviewing the 'Don't Ask, Don't Tell' policy. (PHOTO CREDIT: GETTY IMAGES)
FROM CNN's Jack Cafferty:
It could be the biggest shake-up to the military since the integration of the armed services under Pres. Truman back in 1948.
Pres. Obama is calling for a repeal of the controversial "don't ask, don't tell" policy - which bars gays from serving openly... and prevents the military from asking them about it. Congress would need to approve Pres. obama's request.
And just hours ago - the military's top uniformed officer appeared before Congress to support openly gay members serving. Chairman of the Joint Chiefs of Staff, Admiral Mike Mullen, says it's a matter of integrity and that it is wrong to force people to "lie about who they are in order to defend their fellow citizens."
The military is set to begin a year-long study into how "Don't Ask, Don't Tell" can be repealed without causing major problems in the service.
But Critics say it's a bad idea to change this policy while the U.S. is engaged in two wars and faces the ongoing threat of terrorism. Republican Sen. John McCain says he's quote "deeply disappointed"... and while the policy hasn't been ideal, it has been "effective."
Meanwhile - a poll from late 2008 suggests more than 80 percent of Americans believe openly gay people should be allowed to serve.
It's estimated that more than 13,000 people have been discharged from the military under "Don't Ask, Don't Tell" since it was implemented in 1993 - this includes dozens service members who can speak Arabic - a highly-prized skill with the U.S. fighting wars in the middle east.
Here's my question to you: How would the repeal of "don't ask, don't tell" affect the military?
Interested to know which ones made it on air?