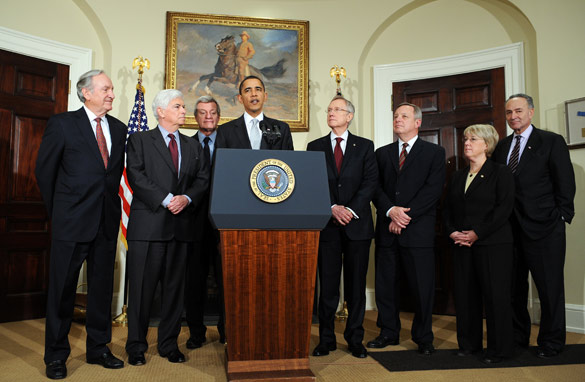 In a December 2009 photo, Pres. Obama meets with Democratic Senators in Washington, DC. (PHOTO CREDIT: JEWEL SAMAD/AFP/GETTY IMAGES)
FROM CNN's Jack Cafferty:
A year ago, it would have seemed nearly impossible: The popular new Democratic president boosting support for Republicans at the polls.
But, fast forward a year and with a significant drop in Pres. Obama's approval ratings - that's now part of the GOP strategy for the midterm elections. Some Republicans are hoping to tie their Democratic opponents to unpopular policies of the President... including things like spending, bailouts and health care reform.
It's happening in conservative states - like Louisiana and Tennessee... where Republicans are hoping Mr. Obama will come campaign with the Democrats... as well as other states that the president won in 2008 - like Wisconsin. In some cases - they plan to tie Democrats to the Pelosi-Obama agenda - a reference to the hideously unpopular speaker of the house.
Nonetheless - Republicans recognize that they will have to walk a fine line so the strategy doesn't backfire. They can't go after the president personally, because most Americans still like Mr. Obama even if they disagree with his policies.
Following stunning losses in Massachusetts, Virginia and New Jersey - Democrats are prepping for a rough midterm election. And things could get worse. Imagine the symbolism of losing the president's home state, Illinois. There is some concern that Republicans might take over the president's old senate seat along with the Illinois governorship.
Illinois has been Democratic for years - but ongoing ethics scandals and the near insolvency of the state government might just change that.
Here's my question to you: Will Pres. Obama help or hurt fellow Democrats in the midterm elections?
Interested to know which ones made it on air?
John writes:
Are you kidding? He has already hurt Democrats in Virginia, New Jersey and Massachusetts. It's possible that his endorsement or passive support will destroy a candidate's chances in November.
Ryan from Wisconsin writes:
Both parties have gotten too far to the extremes. They both need to come back to the middle, where the majority of us live. I think we will see more independent candidates rise up. I am sick of party politics. They all need to open their eyes, look at the problems and find the best solution, whether it agrees with the party or not. Congress is the problem, not so much Obama.
Andrew from Colorado writes:
If Pres. Obama sticks to his agenda, which Americans do not want, he will hurt is party greatly. We are already seeing other moderate Democrats distancing themselves.
Chuck writes:
Help. Obama is the best thing to happen to the Republican Party since Bill Clinton.
J. writes:
Jack, I think it's too early to tell for sure how Obama's influence will pan out. He's got 8 months or so to make a difference and if the economy improves, so will the voter response. On the other hand, it really bugs me how feckless the American voter can be. Who was in power when everything came tumbling down? The Republicans. So why do people think it'd be better to have them back in power again? The voter psyche is just too confusing to understand.
Dan writes:
Are you kidding me? With how fast the American people forget, we'll be sweeping the house and the Senate in November when this economy comes roaring back. I can't wait to see your story then, Mr. Cafferty.