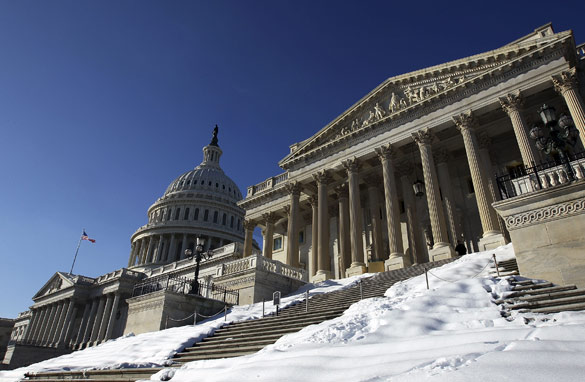 (PHOTO CREDIT: GETTY IMAGES)
FROM CNN's Jack Cafferty:
It turns out the Democrats were too clever by half.
In four vacant Senate seats - they managed to go zero for four in putting people in place who have virtually no chance of being re-elected.
It's not bad enough that the midterm elections are shaping up as a bloodbath for the Democrats - but now they'll be forced to defend what should have been safe Senate seats in some of the bluest states of the country.
Joe Biden's old seat in Delaware - Hillary Clinton's old seat in New York... they managed to put a moron into President Obama's old senate seat in Illinois... thank you, Rod Blagojevich... and one of the senate seats in Colorado could also fall to the Republicans.
Plus - they just lost Ted Kennedy's Senate seat in Massachusetts... and the governorship in New Jersey... and the governorship in Virginia... they're on a real roll.
Of course - voting against incumbents has a certain appeal. The government is broken, the only way to fix it is term limits. And there's no way the weasels in Congress will ever agree to do away with their own jobs. So that leaves it up to us.
Scott Brown certainly got everyone's attention. The Senate seat he won had been held by the late Edward Kennedy for 46 years... so you see, it can be done.
It is possible for us the voters to create some real change we can believe in. All we have to do is get over this stupid idea that because somebody has been there, they should always be there.
Here's my question to you: Are you willing to vote against the incumbent in this year's midterm election?
Interested to know which ones made it on air?
J.J. from Illinois writes:
With the new 24-hour instant news and social networks, the political parties better learn that things will change very quickly and that any party loyalty is becoming very fleeting. The incumbent Republicans and Democrats better solve some problems together or they will go down together.
Donald from Bluffton, South Carolina writes:
I routinely vote against incumbents. I'm a firm believer in term limits… Unfortunately, my vote doesn't count. I live in an area of South Carolina, where "knee-jerk" conservatives vote for any Republican the party puts on the ballot.
Mark from Naperville, Illinois writes:
Yes, I always am. The problem is the idiot I am voting against now was once "supposedly" the candidate of change. He/she got there, got corrupted by the power and special interests, and then became the incumbent I now despise. It is a sick little cycle that has infected both parties and has no real answer in terms of resolution.
Silas from Boston writes:
As a Scott Brown voter, I'll continue voting against incumbents regardless of party. NBC only gave Conan 7 months, that's longer than the American people have given Barack Obama. And yet we still send the same lobbyist-purchased legislators back to Washington every two years. If they won't give us term limits, all we have to do is fire them. I know I'm sick of seeing the faces of Pelosi, Reid, Boehner, Cantor and Specter just to name a few. Forget Clinton or Bush fatigue, I've got Congressional Fatigue.
David from Oregon writes:
Not me, Jack. My representatives are perfect; they do everything I want them to. I am positive they don't take money under the table, their wives love them to death and they never kick their dogs.
Deborah writes:
Yes, ALL incumbents have to go. There is rampant corruption in our government. You have NO idea how I hate to agree with you.