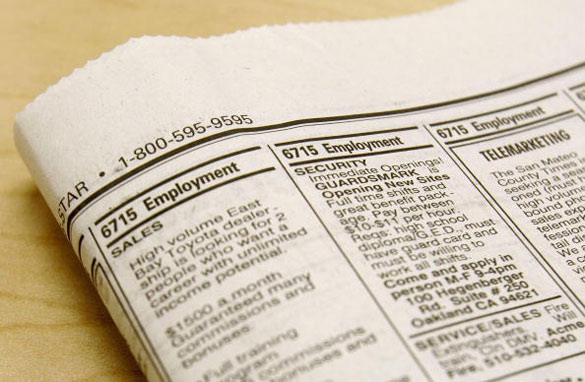 (PHOTO CREDIT: Justin Sullivan/GETTY IMAGES)
FROM CNN's Jack Cafferty:
Jobs, jobs, jobs.
That was one of President Obama's top priorities in last night's State of the Union address.
The president is calling for a "jobs bill" from Congress right away. More specifically, Mr. Obama wants to give a tax break to companies that hire workers - to get rid of capital gains tax on small business investments - and he wants 30 billion dollars of TARP money to help local banks lend to small businesses.
The president also wants to put more federal dollars into so-called green jobs and infrastructure projects - and to extend unemployment benefits to Americans still out of work.
But economists say fixing the jobs situation won't be quick or easy... that it will take a strong economic expansion to get things going again.
The national employment rate is at 10-percent, up from seven-percent when Mr. Obama took office; and just today, the government reported last week's first time claims for unemployment fell, but not by as much as expected.
Meanwhile a new poll suggests that Americans agree it's hard to land a "quality" job.
The Gallup poll shows that only nine-percent of Americans say now is a good time to find a quality job; that number is down sharply from January 2007 - when 48-percent of those surveyed were optimistic about finding a quality job.
And, this bleak outlook on finding a quality job is consistent across all ages, incomes, genders, and different regions of the country.
This means not only does the Obama administration need to worry about lowering unemployment and increasing the quantity of jobs, but the quality as well.
Here's my question to you: How confident are you in the government's ability to create jobs?
Interested to know which ones made it on air?
Joe from Maryland writes:
The government can create jobs by investing in future energy projects, rail, and an improved outlook for the future success of the country. If the world sees America taking the lead, business and employment will follow. I should know, I start my new job on Monday after 2 years of not being able to find a job. Thanks, Obama, I'm an engineer back at work and paying taxes.
Karl from California writes:
Jack, Is there anyone still around who lived through the Great Depression and can tell these impatient jackasses how many years and how many millions it took to bring us out of the Depression and then back to work? It took many years and many millions, and jobs came back last. FDR had the same brand of brainless Republicans we have now whining incessantly. At least the media wasn't taking a new poll every ten minutes back then to antagonize the situation.
Ralph writes:
Not only do I think that the government can't do anything to directly create jobs, but almost anything they do will hurt the job market by creating uncertainty and destroying incentives. The best thing is to reduce regulations, stabilize the money supply, and reduce taxes.
Gary writes:
Jack, The U.S. government is currently the largest single employer in the United States. With over 2 million civilian employees (excluding the Post Office) the government has already proven that it can indeed create jobs. The real question is whether the role government plays (or could play) in creating jobs is good for the long-term health of the country. The answer to that question is complex.
Perry writes:
Excuse me for being long-winded but "not at all".
Dave writes:
Jack, You asked on TV why they always say, "Jobs, Jobs, Jobs" three times. They say it three times because men won't get the message if you don't say it three times. This is why you always see signs that say, "Girls, Girls, Girls". Would anyone remember Elvis' old 1962 movie if they just called it "Girls"?