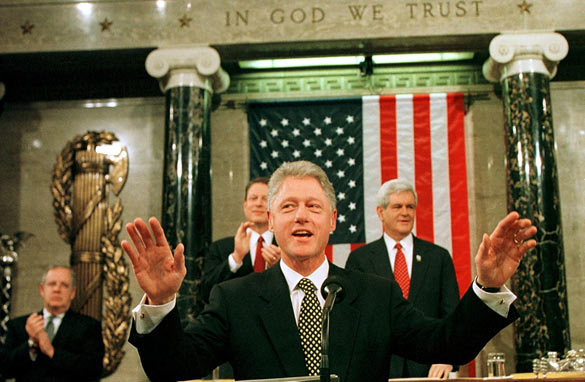 (FILE PHOTO) In his 1996 State of the Union speech, Bill Clinton promised that the era of big government was over - it wasn't. (PHOTO CREDIT: JOE MARQUETTE/AFP/Getty Images)
FROM CNN's Jack Cafferty:
They are full of pomp and circumstance, lots of applause and plenty of media attention, but history proves that State of the Union speeches really don't matter all that much.
That's because generally speaking presidents come out and say the state of the union is strong - even if it's not - and a bunch of other stuff that isn't necessarily true.
For example, in 1934 FDR said: "Now that we are definitely in the process of recovery." Problem was, the economy was nowhere near recovering.
Then there was Richard Nixon - who in his 1974 State of the Union speech - promised the country no recession was coming. He also pledged to never resign and described the U.S. as the winner in the Vietnam war. Within months, Nixon quit, the country was in a recession and North Vietnam is still communist to this day.
In 1996 - Bill Clinton swore that "the era of big government is over" - turns out it wasn't. In Clinton's address to Congress the following year, he talked about how much stronger the country could be if it let the government get more involved in several areas.
Of course President Obama's speech tonight will get lots of media coverage, but polling suggests that a president's support is usually unaffected by the state of the union. A Gallup poll shows that among recent presidents, only Clinton seemed to get a bump in public opinion from his annual state of the union speeches.
Here's my question to you: How much do State of the Union speeches really matter?
Interested to know which ones made it on air?
Randall writes:
This one will be pretty important. Whatever he promises tonight, his party will be held accountable for in November. Will it change the world? No. Will it create jobs? No. It is his "view" of the state of our union but as history shows, usually it is wrong.
Michael writes:
These speeches usually don't matter that much. This one does to me personally. I worked hard to get Obama elected and this is his last chance to show me he cares more about the people than he does the banks. If he doesn't convince me, I'm outta here.
Pat from Michigan writes:
They don't matter much when the president can't make a complete and cognitive sentence. I haven't wasted my time with them for 8 years. I will give this one 15 minutes, but if it turns into another campaign speech I'll turn on the Travel Channel and start plotting my escape from the U.S. Titanic.
Bill from Michigan writes:
The media is already stating that this speech could be a pivotal moment for the president, but if it weren't for all of the media hype and political fodder for the pundits, I doubt if it would really matter much at all. The whole thing has gotten way too predictable. Obama will make his points on the economy, jobs, terror, and health care. The Republican response will try to tear it all apart no matter what it is, and the pundits will all chatter for a week.
Joe writes:
State of the Union Addresses matter to the extent of gathering together in one place all of the promises which the president is likely to break over the next 12 months.
David from Las Vegas writes:
Jack, Wait three months and ask that question again. The speech writer doesn't get anything accomplished.
Ed from Maryland writes:
They are a nice break from reality, just don't hold them in front of a mirror.