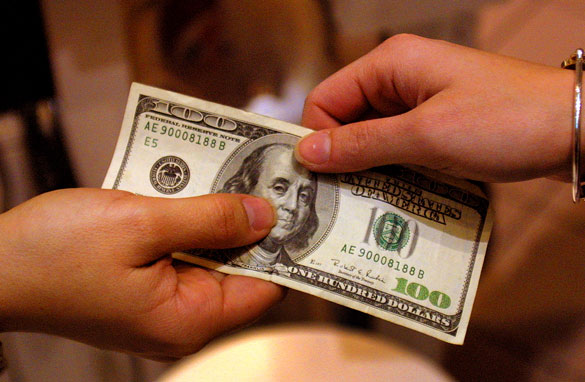 (PHOTO CREDIT: GETTY IMAGES)
FROM CNN's Jack Cafferty:
Almost a year since President Obama signed the massive $787 billion dollar economic stimulus package into law, turns out the public isn't so crazy about it.
A new CNN-Opinion Research Corporation Poll shows almost three-quarters of Americans say that at least half of the money spent has been wasted.
The poll also shows 63 percent say the projects in the plan were included for purely political reasons, while only 36 percent say the projects will help the economy.
Overall, 56 percent oppose the stimulus plan... last year, a majority supported it.
There's even disagreement among the president's top lieutenants on how effective the stimulus package has been. Three top White House officials gave three different answers on the Sunday talk shows about how many jobs could be credited to the president's recovery act.
Valerie Jarrett said the plan "saved thousands and thousands of jobs." David Axelrod said it "created more than, or saved more than two million jobs," while Press Secretary Robert Gibbs said it "saved or created 1.5 million jobs."
The so-called American Recovery and Reinvestment Act was meant to stimulate the economy by increasing federal spending and cutting taxes.
The White House predicted the stimulus package would keep the unemployment rate from going above eight percent - it's 10 percent.
Here's my question to you: Do you believe the stimulus package is creating jobs?
Interested to know which ones made it on air?
Chandler from New Jersey writes:
Obama's economic team consists of theoreticians who believe that jobs magically spring up behind their charts and graphs of the abstract "economy." In reality, a job is a miniature economic engine that has to generate more money for the employer than it costs to hire the employee. Between globalization, free communication, legal and illegal foreign workers, and computerization, American businesses have learned they can make money without hiring American workers. Wall Street parties, while Main Street withers, waiting for jobs that will never come back. My solution: kill all the economists. Sorry, Krugman.
Doug writes:
I live in the Hollywood Hills above West Hollywood. Our streets are in a disgusting state (haven't been repaved since 1927) as are most streets in Los Angeles, one of America's gateway cities. I see billions going to fix streets in areas where hardly anyone lives in other states, but our great city gets nothing… Pres. Obama, we have an estimated $6 billion of street repairs here in Los Angeles, that's a lot of jobs, and the project has been shovel-ready since 1927.
Elizabeth from Los Angeles writes:
It may be creating jobs someplace, but not for me: 65, female, Caucasian, probably assumed to be not in need of work. I'm not exactly the right fit for a "shovel ready" job, but my unemployment has run out and things aren't looking any too good any too soon for us seniors.
Beverly from Mystic, Iowa writes:
I know for a fact that it is. I travel the U.S. for a living and have come across many new jobs being created, not only in Iowa, but ALL across America. Right now, I'm in Oklahoma. In the local paper, I read about Tulsa's 244 Project. It praised the progress being made on Oklahoma highway projects funded by $465 million in federal stimulus money.
Jerry writes:
Jack, I think the varying responses by Obama's lieutenants were a misdirection play. It was to change the debate to these imaginary saved jobs away from an economy that was bleeding jobs. While many of us wanted to go to work, Congress and the White House were focused on health care reform.