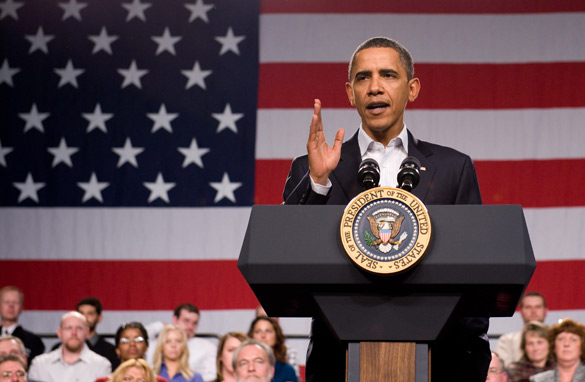 (PHOTO CREDIT: SAUL LOEB/AFP/GETTY IMAGES)
FROM CNN's Jack Cafferty:
As President Obama marks his first anniversary in the White House and the State of the Union approaches, there's criticism coming at him from all corners.
New York Times columnist Paul Krugman writes that doubts he had about the president - since the primaries - have been realized... including that Mr. Obama may not be ready to fight for what his supporters want.
In a piece called "he wasn't the one we've been waiting for," Krugman describes the president talking about health care... saying lawmakers should "try to move quickly to coalesce" around elements of the bill that people agree on. Krugman mocks the message - saying it's like the president is telling lawmakers to "run away."
And when Press Secretary Robert Gibbs was asked about Krugman's critique - he ducked the question.
Meanwhile from the right, Pat Buchanan suggests that white voters are one group that might be of particular concern to the president.
In a column called "Has Obama lost white America?"... Buchanan explains how the racial breakdown of the vote in recent elections in Massachusetts, New Jersey and Virginia could spell trouble for the president.
In 2008 - Mr. Obama took a larger share of the white vote - 44 percent - than John Kerry or Al Gore had done before him. But since then - Republicans have won these three major races because there were more white voters; and Republicans swept that vote in "Reagan-like landslides."
Here's my question to you: How have your views of President Obama changed during his first year in office?
Interested to know which ones made it on air?
Kathy writes:
The thing is my opinion of the president hasn't changed. Have you ever felt so strongly about someone and at the same time you were also truly praying that you were wrong? I feel that this nation is in quicksand and chances of rescue get smaller every day.
Joe from Massachusetts writes:
Yes. I donated and worked for his campaign and obviously voted for him. I expected more openness, attention to Main Street America's issues – specifically jobs, home mortgages and health care. I expected more bipartisanship. We got attention on health care, but with poor execution and leadership from Pres. Obama. The current bill is built too much on spending and special deals and not enough on cost reduction. We got little or no focus on the rest. And we certainly did not get openness. I am a disappointed independent who voted for Scott Brown just to send a message.
Seby writes:
It didn't change my mind. He is still working hard to clean the mess. He has to be a bit more aggressive.
Becky writes:
He has proven himself to be unready and ill-prepared. He has assembled a juvenile group of 'yes men' who will advise him into being a one-term president. He has a poor understanding of foreign policy and a poorer understanding of the fabric of America. He does not understand economics and the strength of the free market. We did not elect an emperor and someone needs to get that message to him. If he apologizes to the world one more time, I will throw up.
Jonathon from Virginia writes:
A year later we've realized as a nation that Obama is no savior, but how could he have lived up to the expectations people had of him? People are quick to talk about all that's gone wrong in the past year, but with the mess the Bush administration left for him, who can blame him?
Larry from Torrance, California writes:
Where's the audacity? The president is eloquent at "talking the talk." For me, on many issues, he is poor at 'walking the walk'. His time is quickly running out.