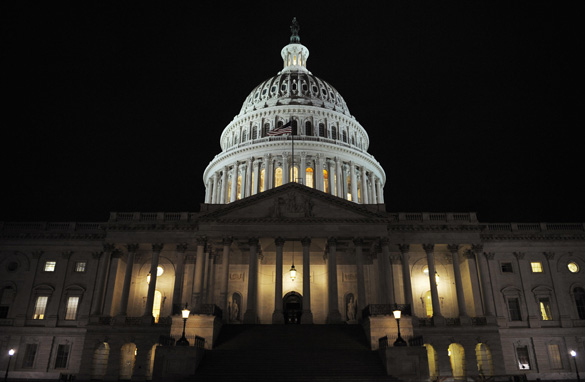 (PHOTO CREDIT: MANDEL NGAN/AFP/Getty Images)
FROM CNN's Jack Cafferty:
The independent voter is one of the main reasons Democrats lost Ted Kennedy's long-held Senate seat in Massachusetts this week.
A survey conducted by one GOP pollster found Republican Scott Brown won 64 percent of independents... compared to 34 percent for the Democrat Martha Coakley.
One short year ago - it was these same independents who overwhelmingly backed Barack Obama and launched him into the presidency.
But with the Democrats now in control of Congress and the White House for the past year, independents are sick and tired of feeling ignored by their so-called representatives.
These critical independent voters are mostly white, middle-class and middle-aged suburbanites, and they're sick of high unemployment, bank and auto bailouts, government spending and taxes, among other things.
So what we're seeing in places like Massachusetts, and also in those governors' races in New Jersey and Virginia, is swing voters swinging the other way.
It's sort of like watching large groups of people rushing from one side of the Titanic to the other, causing the ship to lurch alternately from port to starboard - left to right.
We just went through this a year ago when they all ran away from the Republicans and to the Democrats.
Fact is, neither option is any good. Both parties stink. Our government is broken and no longer serves the needs of the people. Time for real change.
Here's my question to you: What will it take to get a viable third party going in this country?
Interested to know which ones made it on air?
Warren from Ohio writes:
Whatever prospects there once existed for a viable third party in America died today. It was killed today by the demonic ruling of the U.S. Supreme Court to treat campaign money as speech, and thereby guarantee that all remaining elections degenerate into auctions. American democracy: RIP. Thanks for the memories.
John writes:
In light of today's Supreme Court decision, it will be easier I would think. Now what is needed is a handful of good, moderate, charismatic folks willing to run and push for financial support. However I do believe this third party has to be largely in the middle - hard left or hard right will be a waste of time. I would want to see deficit hawks, national defense hawks, social moderates.
Norman writes:
It will take dedication and organization by a movement such as the Tea Party convention in Nashville next month, and most of all, the funding that will be necessary to obtain ballot access in all states.
Pat writes:
The ONLY answer is public financing of federal elections, with qualifications regarding who gets financed. Until real people have a chance at federal office, without raising oodles of money, we will basically have a two-party system.
G. from Washington writes:
We had one in Ross Perot who had the charisma and the cash to fund such a campaign. The problem is he ran at the wrong time. What we need now is another deep-pocketed, charismatic, pragmatic, pro-American, true Independent. Those who currently proclaim their independence are just disaffected members of the fringe left or right.
JM writes:
The two parties we currently have to chose from would never let that happen. Both sides have been completely corrupted by power, and seem to be willing to do anything to hold on to it. We have lost our way.
John writes:
A miracle.