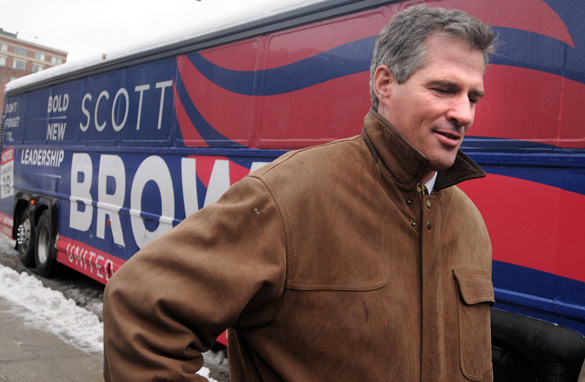 Republican Scott Brown defeated Democrat Martha Coakley in a special election to fill the seat of the late Senator Ted Kennedy. (PHOTO CREDIT: GETTY IMAGES)
FROM CNN's Jack Cafferty:
What a difference a year makes.
A year ago to the day - President Obama rode into Washington high on his campaign's mantra of change and hope. He delivered his inauguration speech to adoring masses and embarked on an ambitious agenda - planning to tackle the economy, health care, the environment... all in his first year.
Fast forward 12 months - and the president and his party have been handed a stunning defeat - in Massachusetts of all states.
What's more, it's the same angry independent voters disgusted with politics as usual - who had vaulted President Obama to the White House - that delivered big time for Republican Scott Brown in mass.
Meanwhile the president's comment that "we can't win them all" is tantamount to putting lipstick on a pig. This loss is huge for him and for the Democrats. After all, President Obama campaigned personally for the loser, Martha Coakley, in Massachusetts as he did for the Democrats who lost governors' races in Virginia and New Jersey. Seems like the "Obama magic" is no more.
No doubt Republicans are rejoicing here, with potential presidential hopefuls like Mitt Romney and Tim Pawlenty weighing in on what it all means. One thing is sure... they're all smiling.
But Sarah Palin might want to think twice before she gives up her day job over there at the F-word network. A new CBS news poll shows a whopping 71 percent of Americans - including 56 percent of Republicans - are against Palin running for president in 2012.
Here's my question to you: What does a Republican victory in the bluest of blue states mean for the rest of President Obama's first, and perhaps only, term?
Interested to know which ones made it on air?
Mary writes:
This should show the president that people vote for candidates who listen to them and address their needs and issues, just as he did when he ran for president. Now, it's business as usual: Every vote in the Congress is sold to the highest bidder. Will Mr. Brown be the exception? Probably not. This is one part of the status quo which our president is powerless to change.
Judy from Raleigh, North Carolina writes:
Obama will remain a failed president until he (and the Democrats in Congress) understand, if ever, that if Americans are working at good jobs, most of the rest of the problems go away. Bill Clinton is the last Democrat who got it.
Democrat from Missouri writes:
This is absolutely ridiculous! This is one race. The Democrats still have 59 votes in the Senate, although this is a wakeup call for the Democrats. Health care needs to be finished and the rest will follow. Obama will win re-election by a landslide!
Thomas writes:
Health care is dead. President Obama's agenda is dead. President Obama will be a one-term president. Then, 8 years for Palin!
Rick from Tamaroa, Illinois writes:
Jack, This election wasn't a notice to the Democratic Party or a vote against health care. This was a notice to all that have been elected to work for the people: do their job and stop playing politics! If I was an incumbent I'd be very nervous come election time Republican or Democrat.
Rick writes:
The president will now run to the center if he has any hope of saving his presidency, much less gaining a second term. But it's not too late. He is a charismatic leader. And, if he can cobble together truly bipartisan solutions to some of the country's toughest problems (starting with the economy), then he can still have his girls grow up in the White House.