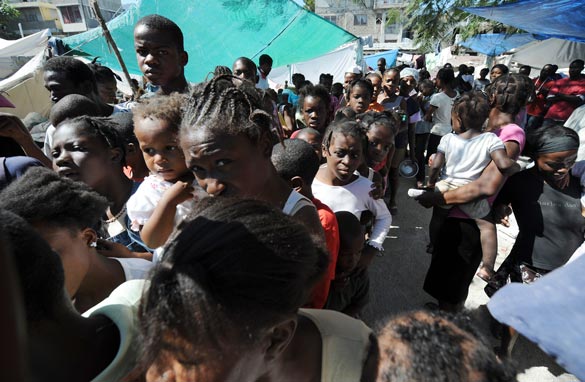 (PHOTO CREDIT: JEWEL SAMAD/AFP/Getty Images)
FROM CNN's Jack Cafferty:
The United States is telling millions of Haitians - made homeless by last week's earthquake - not to try to come here.
Homeland Security and the Defense Department say they're taking strict actions to avoid a mass exodus from Haiti... with concerns that it could lead to a refugee crisis in places like Miami or deaths at sea.
A U.S. Air Force cargo plane flies for hours over Haiti daily... broadcasting a message from Haiti's ambassador to the U.S. that things will be even worse if they attempt the trip… and that any refugees will be sent right back to Haiti.
Officials plan to take any boats with Haitians caught at sea to Guantanamo Bay, Cuba - and they're clearing out a federal jail in Miami to make room for Haitians who might make it here.
It doesn't appear that Haitians have been trying to flee the island by boat, yet... but officials worry that as conditions on the ground get worse, the chances of an exodus could go up.
Since the earthquake, the U.S. has only allowed 23 Haitians into the country to get medical help on humanitarian grounds... as well as allowing some Haitian orphans to come here temporarily.
The U.S. says it will give temporary amnesty for 18 months to Haitians who were in the country illegally before the earthquake. But the so-called "temporary protected status" - which could affect as many as 200,000 Haitians in the U.S. - won't apply to those who try to get into the country going forward.
Here's my question to you: Should the U.S. bend immigration rules and let Haitians into the country as refugees?
Interested to know which ones made it on air?
J. writes:
And put them where? They can live in a refugee camp here or in Haiti. If they are here, we bear the cost; if they are in Haiti, we might be able to get the UN to pick up the cost. The U.S. is already overspending on everything; we no longer have the resources to be the world's saving grace.
Andre writes:
Absolutely. Giving Haitians refugee status would help establish America as a moral authority in the Caribbean and around the world. Being viewed as a compassionate, helpful neighbor is good for our national security and could be useful in trade negotiations. Haiti will eventually emerge as a more stable, more prosperous state. When it does, Haitians will remember how much America helped in this catastrophe.
Mark writes:
Jack, The people of Haiti need to stay in their country and help rebuild it. Considering that only 50% of the people have any education at all, (most only have 2.5 years education) what could they do here? Basically with zero skills, nothing. They would be just more drain on our social programs requiring free medical, welfare, and food stamps. We are helping them in their time of need and will continue to do so but they need to stay there.
Diane writes:
Yes. If we can spend hundreds of millions bailing out banks, et al. who made questionable investments, we can help these people who through no fault of their own find themselves with absolutely nothing.
Vicki from Saint Paul, Minnesota writes:
If we can look the other way for Mexicans, despite their exporting of drugs and violence into the U.S., why not for Haitians? Are Hispanics in general and Mexicans in particular really more deserving or in greater need? Doesn't immigration work best when it's broadly based? Aren't immigrants more likely to become Americanized and English-speaking when the immigrant community is more diverse?
Cassiel writes:
Fix Louisiana first. Then we'll talk.