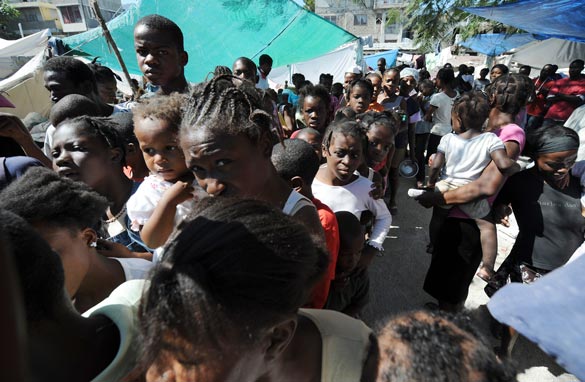 (PHOTO CREDIT: JEWEL SAMAD/AFP/Getty Images)
FROM CNN's Jack Cafferty:
The United States is telling millions of Haitians - made homeless by last week's earthquake - not to try to come here.
Homeland Security and the Defense Department say they're taking strict actions to avoid a mass exodus from Haiti... with concerns that it could lead to a refugee crisis in places like Miami or deaths at sea.
A U.S. Air Force cargo plane flies for hours over Haiti daily... broadcasting a message from Haiti's ambassador to the U.S. that things will be even worse if they attempt the trip… and that any refugees will be sent right back to Haiti.
Officials plan to take any boats with Haitians caught at sea to Guantanamo Bay, Cuba - and they're clearing out a federal jail in Miami to make room for Haitians who might make it here.
It doesn't appear that Haitians have been trying to flee the island by boat, yet... but officials worry that as conditions on the ground get worse, the chances of an exodus could go up.
Since the earthquake, the U.S. has only allowed 23 Haitians into the country to get medical help on humanitarian grounds... as well as allowing some Haitian orphans to come here temporarily.
The U.S. says it will give temporary amnesty for 18 months to Haitians who were in the country illegally before the earthquake. But the so-called "temporary protected status" - which could affect as many as 200,000 Haitians in the U.S. - won't apply to those who try to get into the country going forward.
Here's my question to you: Should the U.S. bend immigration rules and let Haitians into the country as refugees?
Interested to know which ones made it on air?