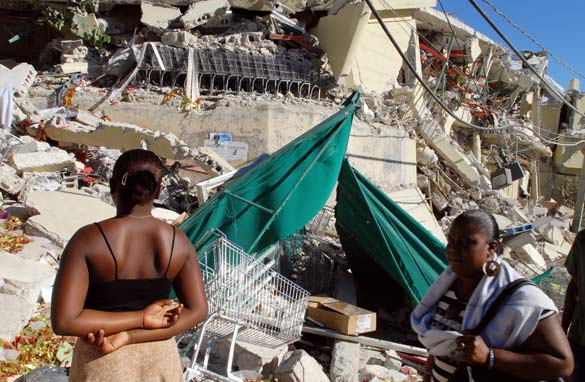 Haitians pass destroyed buildings in Port-au-Prince. (PHOTO CREDIT: THONY BELIZAIRE/AFP/Getty Images)
FROM CNN's Jack Cafferty:
With Haiti facing a humanitarian crisis of epic proportions - the U.S. is in the crosshairs of a massive relief effort.
President Obama says the U.S. government will lead a "swift, coordinated and aggressive effort to save lives" following the deadly earthquake.
He says the U.S. has already mobilized military flights over the country to assess the damage... and that civilian disaster assistance teams are on their way.
The president points to the "heart-wrenching" images from Haiti and adds that the tragedy "seems especially cruel and incomprehensible" in a country that's already accustomed to hardships.
Mr. Obama says Haiti will have the unwavering support of the U.S.; although he hasn't pledged a specific amount of aid. Officials say they're still trying to figure out what is needed. Meanwhile the president is also calling on Americans to help and to donate money. He says the Haitians are our neighbors; and that Americans need to be there for them "in their hour of need."
Of course it's not just the U.S. helping here. Aid agencies and governments from around the world are springing into action - mobilizing search and rescue teams and sending money, aid and food.
The scope of the death and destruction isn't known yet - but it's clear that Haiti, the poorest country in the western hemisphere, has been devastated. Some officials fear the death toll could reach 500,000 - with millions of others displaced.
Haiti needs a lot of help.
Here's my question to you: Should the U.S. lead the international response to the Haiti earthquake?
Tune in to the Situation Room at 4pm to see if Jack reads your answer on air.
And, we love to know where you're writing from, so please include your city and state with your comment.