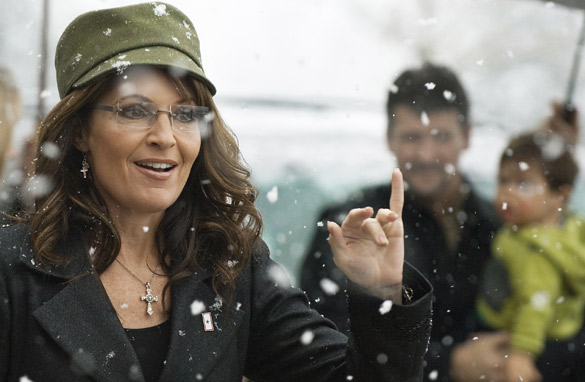 (PHOTO CREDIT: PAUL J. RICHARDS/AFP/Getty Images)
FROM CNN's Jack Cafferty:
Sarah Palin has a problem with the truth - that's the explosive charge coming from John McCain's top campaign strategist.
Steve Schmidt tells CBS' "60 minutes" that Palin was dishonest as the Republican VP nominee, saying things that were "not accurate," which opened the door to criticism that she was "untruthful." Schmidt suggests such comments by Palin have done long-term damage to her public image.
For example - he talks about Palin's reaction to an ethics report from Alaska... which she claimed completely exonerated her. Schmidt said it clearly didn't... and that Palin's comments were the equivalent of saying "down is up and up is down."
Schmidt also says when John McCain tapped her to be his running mate, Palin announced: "It's God's plan."
There's more. The authors of a new book called "Game Change" describe how McCain's aides realized there were serious problems with Palin very quickly. Even after staffers gave Palin crash-course sessions on different topics after the GOP convention - she was still extremely uniformed. They claim she didn't understand why there was a North and South Korea... and regularly said Saddam Hussein was behind 9/11. Schmidt told Palin's tutor's in foreign affairs: "You guys have a lot of work to do. She doesn't know anything."
This from a woman who still may want to run for president in 2012 - and who has just signed on as a paid contributor to the F-word network.
Palin's people dispute the version of events in this new book - instead saying the governor has given "accurate" depictions of what happened in her own recent book.
Here's my question to you: Do you believe Sarah Palin is dishonest?
Interested to know which ones made it on air?