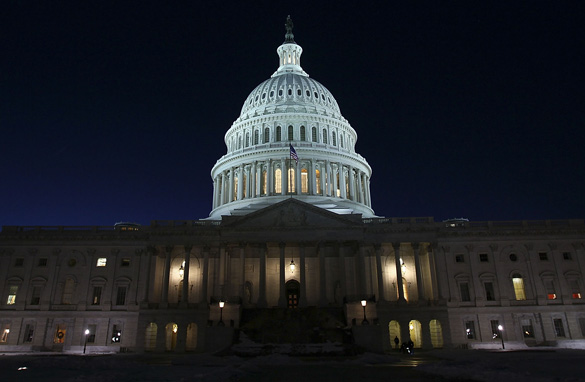 (PHOTO CREDIT: GETTY IMAGES)
FROM CNN's Jack Cafferty:
Turns out 2009 - the year the Democrats took over the White House and were in control of both houses of Congress - was a banner year for conservatives.
A new Gallup poll shows conservatives finished the year as the number 1 ideological group in the country - at 40-percent.... compared to 36-percent who identify themselves as moderates, and 21-percent who say they're liberals.
This is the first time in five years that conservatives outnumber moderates as a political ideological group. The findings show the increase is due largely to more political independents adopting the conservative label.
Gallup measures ideology by asking people if their political views are "very conservative," "conservative," "moderate," "liberal" or "very liberal."
The poll of some 22,000 people also shows that over the last decade, the percentage of Americans calling themselves either conservative or liberal has increased; while the percentage of moderates has decreased. An indication the country is becoming more polarized.
In the year 2000, 62-percent of Republicans identified as conservatives. That number is now up to 71 percent. As for Democrats, 29-percent called themselves liberal at the start of the decade, now it's 38-percent. Meanwhile fewer Republicans or Democrats call themselves moderates.
It's no wonder it's nearly impossible for politicians in Washington to reach across the aisle. With poll numbers like these, any attempt to include someone from the other end of the spectrum is fraught with political peril.
Here's my question to you: What does it mean that conservatives finished 2009 as the number one ideological group?
Tune in to the Situation Room at 6pm to see if Jack reads your answer on air.
And, we love to know where you're writing from, so please include your city and state with your comment.