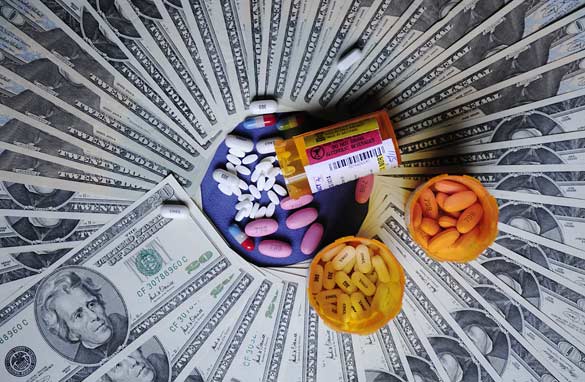 (PHOTO CREDIT: AFP/GETTY IMAGES)
FROM CNN's Jack Cafferty:
How dare they.
President Obama and Democratic leaders have decided to bypass a formal House and Senate conference to reconcile the two health care bills. Instead - White House and Democratic leaders will hold informal - another word for secret - negotiations... meant to shut Republicans and the public out of the process.
What a far cry from the election when then-candidate Obama pledged to quote "broadcast health care negotiations on C-Span so that the American people can see what the choices are."
President Obama hasn't even made a token effort to keep his campaign promises of more openness and transparency in government. It was all just another lie told for political expediency.
The head of C-Span wrote a letter asking Congress to "open all important negotiations, including any conference committee meetings, to electronic media coverage."
When White House press secretary Robert Gibbs was asked whether the administration would support televising the negotiations, he refused to answer, mumbling something about "I haven't seen the letter." That wasn't the question. You either support openess or you don't.
The Democrats insist this is all on the up-and-up... with House Speaker Nancy Pelosi saying "there has never been a more open process for any legislation." Really?
This is the same Nancy Pelosi who, after becoming Speaker in 2006, promised the Democrats would have "the most honest, most open and most ethical Congress in history." Let's hope the voters remember some of this crap when the midterm elections roll around later this year.
Here's my question to you: Should secret negotiations be used to reconcile the two health care bills?
Interested to know which ones made it on air?
Don from Ontario writes:
Health care is too important and complex to be negotiated behind closed doors. It is doubtful that any single member of the Senate or House knows enough about the topic to enact a bill that truly improves the current messy "system". The negotiations should be televised so that news programs like CNN can daily ask its medical and legal experts to comment.
Helen from Washington writes:
At this point, I am sick and tired of hearing about health care; anything to keep it off cable news is fine by me.
Ed from Maryland writes:
In secret is generally where people do all their evil. That's also where people conspire. If they conspired to do good, why do it in secret?
Doug from Dallas writes:
What difference does it make, Jack? Whether it's an open forum or closed, the end result will be the same. Why should the "Party of No" be included? They all voted against it so if they hold true to their roots, they'll do everything they can to delay it even further.
Jayne from New Hampshire writes:
It doesn't matter whether the negotiations are secret or conducted at Madison Square Garden. Without a single-payer health care plan, the whole mess is nothing more than welfare for the big insurance companies. And here I thought there was a difference between Democrats and Republicans.
Sue from San Diego writes:
Even after Obama promised to work for ALL Americans and reach across party lines for the most bipartisan administration in history, they are conducting secret meetings excluding the Republicans and ALL the American people. We will respond the only way we can, the remaining Democrats that don't resign will be voted out of office and Obama will be a one term president.
Patrick writes:
Well, how's that change working out for everybody? I don't think this is what American voters had in mind when they voted for change they could believe in.