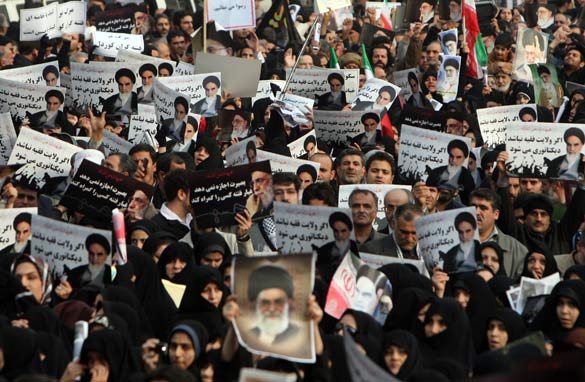 Supporters of Iran's regime took to the streets in Tehran last week in a show of force against the opposition, which it accused of being "pawns of the enemies." (PHOTO CREDIT: ATTA KENARE/AFP/Getty Images)
FROM CNN's Jack Cafferty:
The answer to the nuclear standoff in Iran may lie in the bloody seven-month-long pro-democracy protests in the streets of that country.
Last week - Tehran saw some of the most violent clashes between demonstrators and government security forces in months... leaving at least eight people dead. Since then - hundreds of thousands of protesters have held rallies across the country.
Iranians are climbing to their rooftops at night and screaming "death to the dictator" and "death to Khamenei."
President Obama has said that the Iranian regime is engaged in "the violent and unjust suppression" of its citizens, who want nothing more than to exercise their universal rights. He says the regime is using the "iron fist of brutality" and governing through fear and tyranny.
Meanwhile - Iran blew off President Obama's January first deadline of making progress on the nuclear issue. The U.S. insists Iran wants to build nuclear weapons - while Tehran says its nuclear activities are for peaceful purposes.
The end of the year deadline passed and nothing happened. Secretary of State Hillary Clinton says the U.S. is open to further negotiations with Tehran - and that new sanctions are also possible. That's worked so well in the past.
But some suggest the best way to deal with the nuclear issue in Iran is to empower these democratic protesters - instead of offering economic and political incentives to the country's rulers and continuing endless negotiations. They say the U.S. should get behind the opposition... which is determined to topple the government.
Here's my question to you: When it comes to Iran's nuclear ambitions, is supporting pro-democracy protesters a better option than negotiating with the government?
Interested to know which ones made it on air?