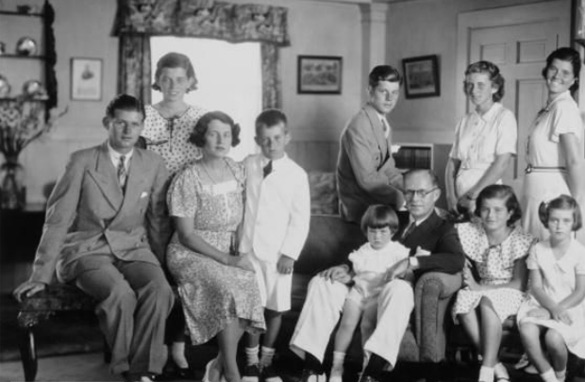 The Kennedys in a 1935 photograph. (PHOTO CREDIT: LIFE.com)
FROM CNN's Jack Cafferty:
Politics just might run in the blood in the United States.
Political dynasties have a long history... from families like the Adamses, the Roosevelts, the Kennedys... to the Bushes and the Clintons.
And the newspaper "The Hill" reports the 2010 elections will be no exception - with the offspring of some well-known politicians trying to follow their relatives into power. Experts suggest if you have a famous and beloved name... it's "an advantage you don't want to throw away."
Some of the potential political dynasties in the making include:
Rory Reid, the son of senate majority leader Harry Reid ... who is running for governor of Nevada. In this case though, the name could hurt him. His father is facing a tough re-election battle and has pretty dismal poll numbers. Maybe that's why there are no scheduled events for the two Reids to campaign together.
Rand Paul, the son of Congressman and former presidential candidate Ron Paul... is running for the Republican nomination for Kentucky's Senate Seat.
Robin Carnahan is running to replace Kit Bond in the U.S. Senate. Her father was the late Democratic governor of Missouri Mel Carnahan... and her mother, Jean Carnahan, served as senator.
Others include Ethan Hastert, son of former Republican House Speaker Denny Hastert who is running for his father's old seat; Jason Carter, grandson of the former president; and Beau Biden - son of the vice president. Biden hasn't said yet if he'll run for his father's old senate seat in Delaware.
Here's my question to you: Are political dynasties good for the U.S.?
Interested to know which ones made it on air?
Mike from New York writes:
Jack, dynasties create a sense of entitlement. Remember the recent mess when Carolyn Kennedy was 'campaigning' to be appointed to fill Hillary's Senate seat? There was an expectation that even with no qualifications, the name was qualification enough. It seems that rarely does the talent get transferred in the genetic crap shoot.
Gigi from Minneapolis writes:
Having a famous name is not going to insure a seat in the Senate or Congress. Hubert Humphrey's son and grandson have both tried and have not been successful. I see nothing wrong with a candidate with a famous name running for an office if they are qualified.
Robert writes:
Every time I hear the word "Jeb", I have a panic attack.
Dennis from Columbus, Ohio writes:
Come on now, Jack, you know it's good for our country. The siblings don't have to waste time getting to know all those important contacts. They can go straight to work pleasing the rich powerbrokers.
Omar writes:
It is true that in a democratic nation such as ours, political dynasties should not exist, but in certain cases (such as the Kennedys) some families have the power to truly change our country and the world for the better.
Al writes:
We have become a nation of political inbreeding. Look where it's gotten us! We need to stop it!
Sam from Iowa writes:
Why not? At least they know the ropes!
Paul writes:
No, they are the antithesis of the ideals of America. America was built on not having a monarchy. Having family political dynasties only breeds incompetence, stagnation, decline, and corruption.
Tom from Iowa writes:
Dynasties are fine as long as the name involved is not Bush or Palin.