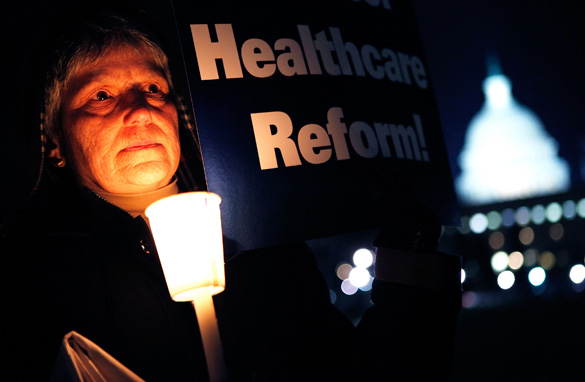 An activist participates in a vigil to support public option in health care (PHOTO CREDIT: GETTY IMAGES)
FROM CNN's Jack Cafferty:
President Obama says the federal government "will go bankrupt" if Congress doesn't pass health care reform.
In an interview with ABC News - The president warns that without new health care legislation - people's premiums will go up and employers will add on more costs. Also - he says it's possible employers will start dropping coverage all together - because they just can't afford the increase in costs, somewhere to the tune of 25 to 30 percent a year.
Mr. Obama adds that the costs of Medicare and Medicaid are headed in an "unsustainable" direction... and threaten to bankrupt the government if nothing is done. The president says anyone who's worried about rising deficits or future tax increases has to support the bill - because otherwise, health care costs will just eat up the budget.
But not everyone is buying what the president is selling. Polls suggest Americans are increasingly skeptical - with support for health care reform falling... while the opposition grows stronger. One new survey shows that for the first time more people say they would prefer Congress do nothing on health care than those who want reform.
It's unclear if the Senate will be able to pass its bill by the president's deadline of Christmas. Among other things, moderate Democratic Senator Ben Nelson of Nebraska - a key holdout - says the question of abortion funding still hasn't been answered to his liking.
Here's my question to you: Can the U.S. survive without health care reform?
Interested to know which ones made it on air?