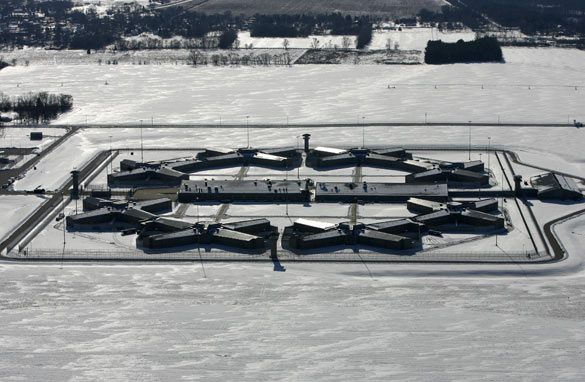 The Thomson Correctional Facility in Thompson, Illinois. President Obama has announced that the prison will be home to roughly 100 prisoners currently being held in Guantanamo Bay, Cuba. (PHOTO CREDIT: Jeff Haynes/Getty Images)
FROM CNN's Jack Cafferty:
The Obama administration is coming under fire for its decision to move some Guantanamo detainees to an Illinois maximum-security prison.
The plan is for the federal government to buy the Thomson Correctional Center - 150 miles west of Chicago. The Defense Department would then run the part of the prison housing what's expected to be fewer than 100 Gitmo detainees. There are about 215 prisoners currently being held at the controversial facility in Cuba.
Administration officials say the detainees going to Illinois would be those facing trial in U.S. courts or by military commission.
Illinois' governor says this move could bring 2,000 jobs and $1 billion to the local community - a big help to a state with an 11-percent unemployment rate.
But critics say it could wind up being another place where detainees are held indefinitely without trial. Republicans suggest this shows the White House has forgotten about the 9/11 terror attacks; and that they're bringing terrorists into the country under the guise of a "jobs program."
The ACLU is blasting the move as well, calling the Illinois prison "Gitmo North." They say closing Guantanamo is only a symbolic gesture if "we continue its lawless policies onshore."
Here's my question to you: Is it a good idea to move Guantanamo detainees to an Illinois prison?
Tune in to the Situation Room at 5pm to see if Jack reads your answer on air.
And, we love to know where you're writing from, so please include your city and state with your comment.