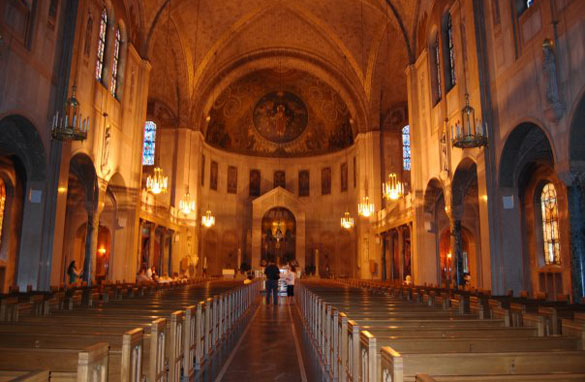 FROM CNN's Jack Cafferty:
More proof that religion and politics are deeply connected in the U.S. - especially if you're a Republican.
A new Gallup poll shows the religious intensity of Americans is a strong predictor of whether they're Democrat or Republican. In a survey of nearly 30,000 people:
49 percent of Americans who call themselves Republicans say they're "highly religious"... meaning they go to church at least once a week and say religion is important in their daily lives. That's compared to 37 percent of Democrats who feel that way.
At the other extreme - only 26 percent of Republicans say they're "not religious" - meaning they never attend church and say religion isn't important... That's compared to 56 percent of Democrats.
When it comes to race - the poll shows that African-Americans are strongly Democratic - regardless of how religious they are. Also, Latinos skew more toward the Democratic party.
However, the religious connection is strongest among whites. Consider this: Whites who are highly religious are more than twice as likely to identify as Republicans rather than Democrats... and - exactly the opposite pattern emerges among whites who are not religious - by a 2-to-1 margin they are likely Democrats.
In all - about half of the white population in this country is both highly religious and leans toward the Republican Party.
With numbers like these - it's no wonder we hear Republican politicians invoking God and morality more often than the Democrats.
Here's my question to you: What does it mean that Republicans are more likely to be "highly religious" than Democrats?
Interested to know which ones made it on air?
Nick from Springfield, Missouri writes:
Being religious is more than attending church or saying you are religious. You don't hear the term "compassionate conservative" much anymore. Perhaps Republicans found it too difficult to live up to that claim. Actions toward others (such as supporting health care reform) should perhaps be a fairer barometer for how religious a person really is.
Layne from Antioch, Illinois writes:
Jack, I've been watching politics since the 60s, and in the Republican administrations, there seems to be quite a disconnect between their actions and any teachings laid-out in the Bible (not that the Democrats have behaved any better). My point is that if you're going to claim the "moral" and religious high road, you'd better damn well be able to back it up with you're actions.
Shirl from Greensboro, North Carolina writes:
The way you have posed the question, Jack, suggests that Republicans are unusual in being "religious." Why not state your question thusly: What does it mean that 56% of people voting Democratic describe themselves as "not religious"?
Chris writes:
Jack, The Republicans have made me less religious. Their blasphemic understanding of Christ's teachings is embarrassing to Christians like me.
Annie from Missouri writes:
Truly religious people care about other human beings, and that just isn't in the blood of the Republican Party. They are more concerned about corporations, wars, and "I've got mine so to hell with the rest of you." Sure, they care about the unborn, but once you are born, they want no part in helping out their fellow human beings.
Anna from Chicago writes:
Republicans are like Tiger Woods: They pretend to be holier then thou until they get in trouble and we find out that they are sinners as much as Democrats.