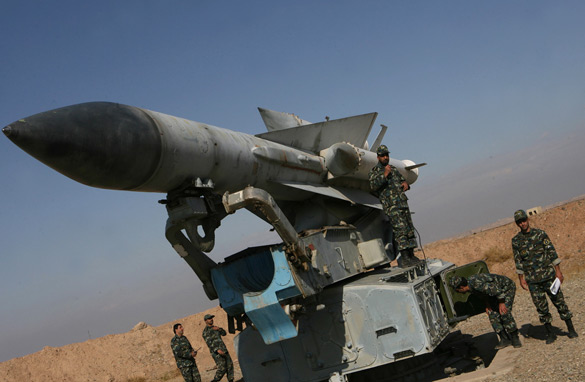 Iranian soldiers stand near a S-200 surface-to-air missile during military maneuvers. (PHOTO CREDIT: Ali Shayegan/AFP/Getty Images)
FROM CNN's Jack Cafferty:
When it comes to Iran's nuclear program... the country just keeps thumbing its nose at the rest of the world.
The Times of London reports it has gotten its hands on secret documents that show Iran is working on testing a key final part for a nuclear bomb. The notes describe a four-year plan to test the component that triggers a nuclear explosion.
It's believed these documents are from 2007 - four years after Iran was thought to have ended its weapons program.
Tehran has repeatedly said that its nuclear program is for peaceful purposes, but with these new documents, experts insist there's no possible use for what the Iranians are doing here - except for a nuclear bomb.
The latest revelation will likely increase pressure for tougher UN sanctions... not like it really matters. Iran has already pretty much ignored 3 sets of sanctions meant to curb its uranium enrichment program.
Meanwhile tens of thousands of students filled the streets of Iran for two days last week in the biggest anti-government protests in months. Many protesters shouted slogans against the supreme leader Ayatollah Ali Khamenei and President Mahmoud Ahmadinejad and chanted "Death to the Dictator."
The U.S. insists it won't sit by and ignore the protests in Iran... with one top diplomat saying the Iranian people "deserve decent treatment from their government."
Also today - Iran says it will try those three American hikers jailed since crossing the Iraqi border last summer. Iran has accused the Americans of spying - but the U.S. insists they were tourists. Some worry Iran could use them as bargaining chips in nuclear talks.
Interested to know which ones made it on air?
Karla from Phoenix writes:
It doesn't matter what the street is shouting about in Iran or what the U.N. says. The leaders have a ton of oil money to keep them fat and warm. They aren't concerned about a tax rebellion or what anyone thinks, least of all American opinion. They know our military is tied up in 2 wars and those Europeans are all talk. They know we're not in a position to really do something and are rubbing it in our faces.
Jim writes:
Try stronger sanctions, hope for the moderation or overthrow of the Iranian regime, but prepare for military action.
Dennis writes:
Action against Iran, for what? We have 3 wayward travelers who have crossed illegally into their country. Iran is threatened on all borders. We have them surrounded with troops in Iraq and troops in Afghanistan. No wonder they want nuclear weapons.
Theodore writes:
Yes, it is long past time to take action against Iran. But will the U.S.? Not very likely. Or to make myself quite clear, fat chance. The task will fall to Israel. Israel is the only country with the guts to execute the tough calls.
Chandler writes:
The idea of taking "aggressive action" against Iran is utter nonsense, and the faster everybody admits that, the better. Can't anyone out there read a map? Iran can stop the tanker traffic through the Straight of Hormuz by throwing rocks. They don't even have to actually throw rocks; if they threaten to do so, the insurance companies will stop the tankers. If you think the economy is a treat now, try cutting out a quarter of the world's oil supply.
John writes:
So what do you want to do, Jack? Send in troops? Old guys like you and me will have to sign up as that's all we have left. Let's try diplomacy, sanctions, etc. for as long as possible and then let President Obama come up with another alternative...he's smarter than us anyway!
Russ writes:
Kinda sounds like it, Jack. What's the word from Tel Aviv?