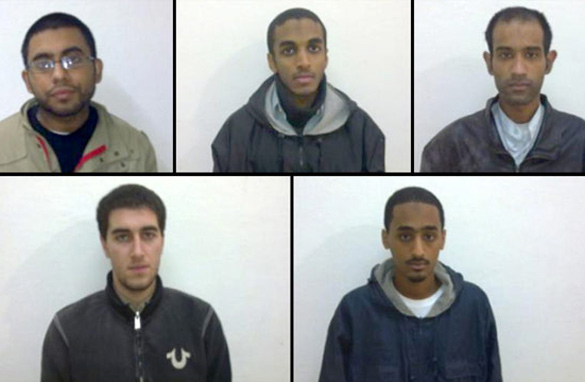 Five Americans were arrested in Pakistan this week, accused of plotting a terror attack.
FROM CNN's Jack Cafferty:
The arrest of five American Muslims in Pakistan is just the latest example of the growing and alarming trend of homegrown terrorism.
Homeland Security Secretary Janet Napolitano says "Home-based terrorism is here... and it will be part of the threat picture we must now confront."
The experts say recent cases make 2009 the most dangerous year since 9/11... They include:
A Chicago man charged with planning the Mumbai terror attack
The mass murders at Fort Hood, which some suspect was a terror attack
Major arrests of Americans accused of plotting with al Qaeda - including one New York bomb plot
Extremism suspects joining foreign networks - like Somali-Americans going to fight in Somalia
And the FBI rounding up homegrown terror suspects in Dallas, Detroit and Raleigh, North Carolina - claiming they broke up plots to attack a synagogue, government and military buildings
Meanwhile unless Congress acts before the end of the year, three provisions of the anti-terrorism Patriot Act are set to expire - the parts that grant law enforcement domestic surveillance powers.
Some say the fact that Congress hasn't acted on the Patriot Act so close to the deadline is "just crazy"... they suggest the threat has been clear in places like Fort Hood and we need to protect ourselves.
But critics claim the Patriot Act disregards civil liberties, goes against constitutional freedoms, and should be allowed to die a natural death.
Here's my question to you: With a rise in homegrown terrorism, should the Patriot Act be allowed to expire?
Interested to know which ones made it on air?
Jeremy from Albuquerque, New Mexico writes:
I think not. The balance between security and liberty are well-known to many Americans. Our conflict with violent Muslim extremism is ongoing; the threat remains. My view is that if you are not plotting terrorist attacks on, or from, our country you have nothing to fear from the Patriot Act.
Mark from Anna, Illinois writes:
I don't now about the Patriot Act but these 5 men should be allowed to expire.
Frank writes:
Let it die. It never should have been implemented. It's nothing but scare tactics. I have worked in intelligence at the highest levels of government. You know what the problem is? We hire people with no common sense. Don't believe me? Look at the TSA release. Look at the investigation on the Ft. Hood shooter. CNN and the press did more in a week than the intelligence professionals did over months.
Jerry from Pennsylvania writes:
Should the Patriot Act be allowed to expire? No, no, no! 3,000 times no, for each of the lives lost on September 11th.
Rick writes:
I'd love to see the internal debate in the Bush administration on the Patriot Act. I'll bet there were other things they felt they could accomplish in the guise of national security. So, amend it or kill it.
Rich writes:
The Patriot Act will be allowed to die by a Congress that is more concerned with the rights of the terrorists than the rights of Americans to live.
Jim from Texas writes:
Jack, Absolutely. It was redundant from day one, and passed solely to limit the civil liberties of Americans. Our intelligence agencies were tangled in turf wars on 9/11, and correcting that was the sum total of the corrections we needed to make. And, while we are at it, abolish the Office of Homeland Security – another legacy of the incompetent Bush administration.
Woody writes:
The Patriot Act should have never been implemented. We see a boogie man behind every door. We have never acted this way before. It seems that we have become a nation of sheep. What are we afraid of?