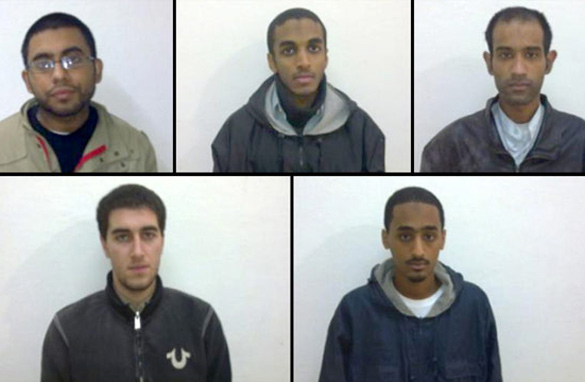 Five Americans were arrested in Pakistan this week, accused of plotting a terror attack.
FROM CNN's Jack Cafferty:
The arrest of five American Muslims in Pakistan is just the latest example of the growing and alarming trend of homegrown terrorism.
Homeland Security Secretary Janet Napolitano says "Home-based terrorism is here... and it will be part of the threat picture we must now confront."
The experts say recent cases make 2009 the most dangerous year since 9/11... They include:
A Chicago man charged with planning the Mumbai terror attack
The mass murders at Fort Hood, which some suspect was a terror attack
Major arrests of Americans accused of plotting with al Qaeda - including one New York bomb plot
Extremism suspects joining foreign networks - like Somali-Americans going to fight in Somalia
And the FBI rounding up homegrown terror suspects in Dallas, Detroit and Raleigh, North Carolina - claiming they broke up plots to attack a synagogue, government and military buildings
Meanwhile unless Congress acts before the end of the year, three provisions of the anti-terrorism Patriot Act are set to expire - the parts that grant law enforcement domestic surveillance powers.
Some say the fact that Congress hasn't acted on the Patriot Act so close to the deadline is "just crazy"... they suggest the threat has been clear in places like Fort Hood and we need to protect ourselves.
But critics claim the Patriot Act disregards civil liberties, goes against constitutional freedoms, and should be allowed to die a natural death.
Here's my question to you: With a rise in homegrown terrorism, should the Patriot Act be allowed to expire?
Interested to know which ones made it on air?