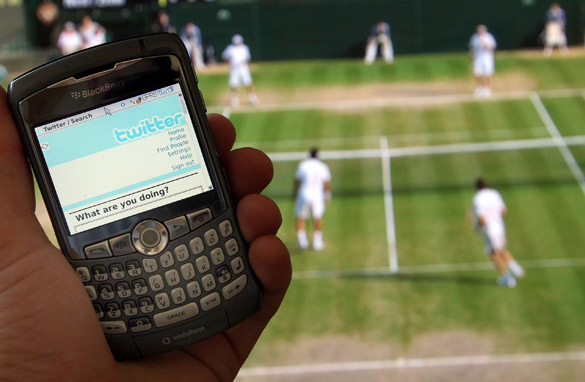 (PHOTO CREDIT: GETTY IMAGES)
FROM CNN's Jack Cafferty:
Picture enough books to bury the entire United States under a pile seven feet deep. That's how much information we consumed last year.
A new study shows that residents of the U.S. consumed 1.3 trillion hours worth of information last year - that includes everything from computers to TV, radio, cell phones, text messaging, video games, movies, books, newspapers, magazines, you name it.
That averages out to almost 12 hours spent daily by every person - and this doesn't even include the information you soak up at work. It's just mind boggling and represents a 350-percent increase from 30 years ago.
Researchers at the University of California, San Diego found that people get most of their information from television... followed by radio, the internet, video games and reading.
And a lot of these things happen at the same time, you know… multi-tasking, people talking on the phone while e-mailing... or text messaging while watching TV.
It's so bad that people don't even look where they're going anymore. They walk down the street with their noses buried in some hand-held device, oblivious to what's going on around them. Or worse, they do it while they're driving. They also sleep with them by their bedside and use them in the bathroom.
We live in a society where it's nearly impossible to turn the information off - it comes at us wherever we are.
Here's my question to you: Is there such a thing as too much information?
Interested to know which ones made it on air?
Michael writes:
No, TMI no longer exists. However it's all about Quality now over Quantity. Even as I write this, I am using Google Reader tracking several other different news feeds, checking my Facebook and waiting for Twitter updates, while watching CNN on the television and waiting for text messages on my phone. And I am 32 years old. I could imagine what my daughter will be able to handle in the way of information by the time she gets to my age.
Lia from Bradenton writes:
Nope, an informed public is one that is best equipped to guard its freedom. What we do need are people who can logically evaluate the quality of the data and sources that they invite into their lives each hour.
Andrew from Los Angeles writes:
The inane garbage most of us send and receive on our mobile devices can hardly be considered "information." If those trillions of hours were spent consuming meaningful, stimulating information I wouldn't be so bothered by the stranglehold technology has over our lives.
Dan from Santa Barbara, California writes:
I'm still not sure what you mean by that. Can you upload an instructional video so I can Tweet my reaction to my college instructor who can in turn let me know if I have a valid point before I respond? I'll text you.
Tim from Crown Point, Indiana writes:
Gosh, are you crabby. Every time I watch you, you're complaining about something. Lighten up!
Katherine writes:
Jackie-me-boy, Your latest gripe is one I have had for years – and reminds me of a great bumper sticker I saw here in the Metro Boston area several years ago: Hang up and drive!
Janice writes:
Anything about Sarah Palin is too much information.
Randy from Salt Lake City writes:
No way, Jack! I'm anxiously awaiting the day when I will no longer have to carry around a Blackberry or blue tooth, but instead will have an internet/communications device surgically implanted in my head. My goal is to become a robot!