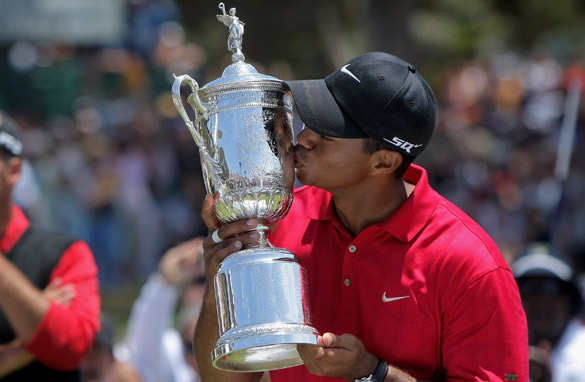 (PHOTO CREDIT: GETTY IMAGES)
FROM CNN's Jack Cafferty:
As the Tiger Woods scandal continues to grow like a Chia pet on steroids, here's the latest:
Reports put the number of alleged mistresses at eleven and counting
Documents from the night of the crash show investigators suspected that Woods may have been driving under the influence
According to Nielsen, television ads featuring Woods have disappeared from prime-time broadcast TV and many cable channels
Woods makes $110 million a year from endorsements and tournaments... and in part he was selling an image. But that image has sustained more damage in the last two weeks than his Cadillac Escalade: One index that measures how celebrities influence shoppers shows Woods' ranking dropping from sixth to 24th place.
This makes Tiger Woods the latest in a long line of public figures - almost always men - who work hard to build successful lives and careers only to turn around and throw it all in a garbage can.
The website PoliticsDaily.com has a piece called "The Last Tiger Woods Question" that asks: "Why did he think he wouldn't get caught?" We all know the drill... from Bill Clinton to Eliot Spitzer, Rudy Giuliani, John Edwards and South Carolina Governor Mark Sanford... people who are so controlled and accomplished in other areas of their lives, yet risk it all.
Experts say a lot of times these men simply don't think - that lust makes people irrational. Or, they think they're smarter, or somehow different or the woman in question is special, or they know other men who got away with it and think they can too. Wrong.
Here's my question to you: Why do some successful people choose to throw it all away?
Interested to know which ones made it on air?
B. from Chicago writes:
When a man or a woman decides to break a promise, they sacrifice their moral code, their integrity. Breaking your vows to a spouse is a decision, not an irrational act. To paraphrase J.R. Ewing, "Once you lose your integrity, the rest is easy."
Those who cheat on their spouse don't choose to throw it all away, since when they decide to break their promises, they believe they can't be caught. And since their integrity is gone, lying to cover-up is easy.
Jamie from Plantation, Florida writes:
Throwing "it all" away implies that there is some intense worth to those things – fame, money, power – and that the loss of "it all" is a bad thing. The truth of the matter is that happiness is not always directly linked to those things that we tend to hold in highest regard in this society. Large, close families with multiple generations working together and spending time together tend to be happier than the average person.
Larry writes:
Successful people are, after all, just people. They do the same things that other people do. They don't choose to throw everything away. They just behave like the rest of us, and suffer more when we all find out about it.
David writes:
Survivor syndrome. Most understand they don't deserve what they have and the guilt drives them to destruction. Then on the other hand, you have the ones who think they created the universe and it is theirs to do with as they please.
Jay from Flemingsburg, Kentucky writes:
Tiger was never allowed to live like a normal kid; all he has ever known is golf. Also, he accumulated great wealth at an age when he didn't know how to deal with it. He was destined to have many problems in his life.
Al from Plant City, Florida writes:
Jack, You can't be serious. I'll give you one guess.