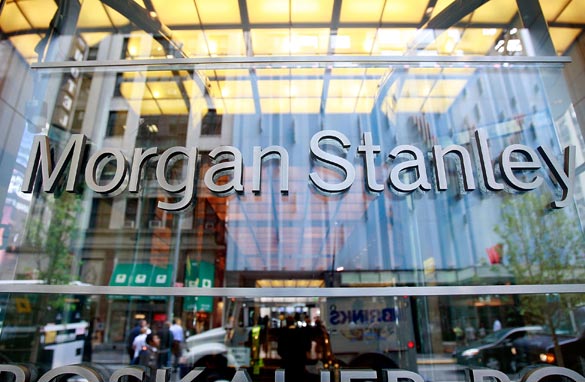 Morgan Stanley is one of ten lenders that won U.S. Treasury approval to pay back $68 billion in funds from the Troubled Asset Relief Program (TARP). (PHOTO CREDIT: GETTY IMAGES)
FROM CNN's Jack Cafferty:
Despite record deficits, President Obama wants to spend more money to create jobs and try to ease the suffering of consumers and businesses.
The president's plan includes:
Giving small businesses tax breaks for new hires and equipment purchases
Expanding spending on infrastructure - building more roads, bridges water projects, etc.
And giving consumers rebates for modifying their homes to consume less energy.
The president didn't put a price tag on all these projects, but he suggested there's more money for the government to spend - since the TARP bailouts will wind up costing $200 billion less than expected.
Republicans are outraged at the idea of spending any of this TARP money - they say any money made back on the bailout of financial institutions should be used to pay down the skyrocketing national debt.
President Obama insists the U.S. can do both at the same time - pay down the debt and spend more to create jobs and spur economic growth.
Meanwhile there is an ominous warning out today about our ballooning national debt - now at $12 trillion and growing. Moody's credit rating agency says it's "not inconceivable" that the U.S. could lose its triple-A debt rating in 2013.
It could happen if U.S. growth slows, interest rates climb, and the government fails to address the growing national deficits - which the government is currently failing to do.
Here's my question to you: What should be done with the leftover $200 billion of TARP money?
Tune in to the Situation Room at 5pm to see if Jack reads your answer on air.
And, we love to know where you're writing from, so please include your city and state with your comment.