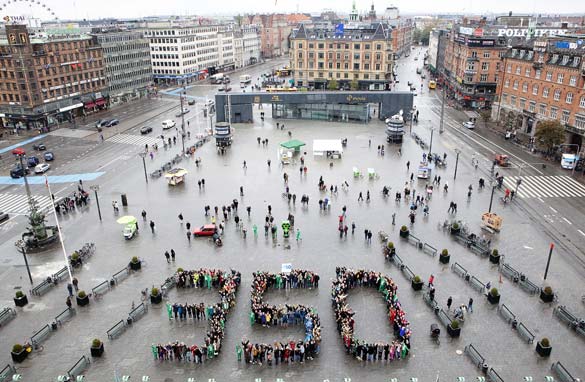 Protesters gather on City Hall Square in Copenhagen to call for carbon emissions cuts during a global warming demonstration. (PHOTO CREDIT: Jasper Carlberg/AFP/Getty Images)
FROM CNN's Jack Cafferty:
With the global warming summit kicking off today in Copenhagen, Denmark - some are wondering what the point of this whole exercise really is.
The British newspaper The Telegraph reports that more than 1,200 limousines have been booked by VIPs. Also, an extra 140 private jets are expected during the peak period of the summit - this far exceeds the capacity at Copenhagen's airport - so some planes will fly to regional airports, or in some cases Sweden, to park; and then come back to pick up their passengers.
All this for the 15,000 plus delegates, officials, journalists, world leaders, politicians, celebrities, etc. attending these meetings meant to reduce the planet's carbon emissions.
This little get-together will produce more than 40,000 tons of carbon dioxide - which is more than Switzerland produced in all of 2006.
To make matters worse, the summit is taking place under a cloud of suspicion - thanks to those leaked e-mails from climate scientists. Critics suggest the messages show researchers are ignoring data that questions whether global warming is real.
Now that President Obama has changed his schedule to attend the later part of the summit, some see this as a sign that an agreement may be closer to happening.
The U.S., India and China have all come out with specific proposals for the first time; and world leaders hope to come up with a deal that includes commitments on reducing emissions. But a legally-binding treaty to combat global warming? Never gonna happen.
Here's my question to you: What do you expect to come out of the global warming summit in Copenhagen?
Interested to know which ones made it on air?
Michael from Alexandria, Virginia writes:
Like you said, Jack, a binding treaty is never gonna happen. I doubt that we will get honest science on this (which would discount warming). I would much rather we give up on warming and instead target actual pollution of air and water in the developing world. Of course, the Chinese would block this too -as would the U.S., who benefits from both Chinese and Mexican pollution run amok.
Ray from Nashville, Tennessee writes:
Jack, Conservatives, Republicans, Blue Dog Democrats, Tea Partiers and their corporate masters can all cry foul and deny global warming if they wish, but the facts are that mankind has done immense damage to our planet… If nothing else comes out of this summit, I hope the countries of the world can agree to begin reducing pollution any way they can.
Mike from Chicago writes:
They are all adding significantly to their carbon footprint with all the private jets and limousines. Why can't they do a video conference so no one had to travel and set a good example for us all?
Eric from Atlanta writes:
I think we might actually get something done now that the Petroleum Party isn't representing us and we have a president who can actually pronounce global warming. At some point, we need to take responsibility for our behavior instead of making ourselves feel better by nit-picking the minutia while missing the big picture.
Mike from Jacksonville, Florida writes:
I hope nothing comes of it. Not to be crass, but the last thing we need is job-killing environmental legislation that aggravates an already shaky economy. First, they need to pin down whether global warming is occurring and whether it is man-caused. Then, and only then, should they even consider the kind of taxation they want now.
John from Fort Collins, Colorado writes:
The only thing I expect to see come out of the global warming summit is an increase in my already high utility bill. The in-your-face hypocrisy of the attendees with their limos and private jets is sickening.