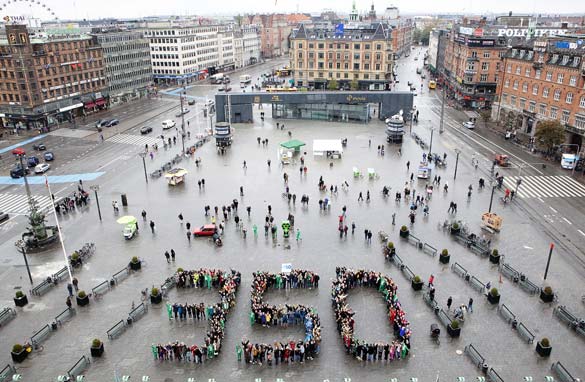 Protesters gather on City Hall Square in Copenhagen to call for carbon emissions cuts during a global warming demonstration. (PHOTO CREDIT: Jasper Carlberg/AFP/Getty Images)
FROM CNN's Jack Cafferty:
With the global warming summit kicking off today in Copenhagen, Denmark - some are wondering what the point of this whole exercise really is.
The British newspaper The Telegraph reports that more than 1,200 limousines have been booked by VIPs. Also, an extra 140 private jets are expected during the peak period of the summit - this far exceeds the capacity at Copenhagen's airport - so some planes will fly to regional airports, or in some cases Sweden, to park; and then come back to pick up their passengers.
All this for the 15,000 plus delegates, officials, journalists, world leaders, politicians, celebrities, etc. attending these meetings meant to reduce the planet's carbon emissions.
This little get-together will produce more than 40,000 tons of carbon dioxide - which is more than Switzerland produced in all of 2006.
To make matters worse, the summit is taking place under a cloud of suspicion - thanks to those leaked e-mails from climate scientists. Critics suggest the messages show researchers are ignoring data that questions whether global warming is real.
Now that President Obama has changed his schedule to attend the later part of the summit, some see this as a sign that an agreement may be closer to happening.
The U.S., India and China have all come out with specific proposals for the first time; and world leaders hope to come up with a deal that includes commitments on reducing emissions. But a legally-binding treaty to combat global warming? Never gonna happen.
Here's my question to you: What do you expect to come out of the global warming summit in Copenhagen?
Interested to know which ones made it on air?