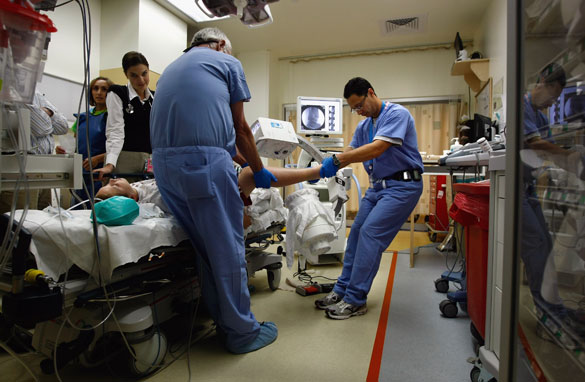 (PHOTO CREDIT: GETTY IMAGES)
FROM CNN's Jack Cafferty:
The battle lines are drawn - when it comes to health care reform. Senate Democrats now say the debate has practically stalled; and they're blaming Republicans for blocking votes. The Republicans deny it.
At issue: The 10-year, nearly $1 trillion bill that would require most Americans to carry insurance, expand Medicaid and require insurers to cover people regardless of their medical history.
That's what we do know about this bill... but buried in the thousands of pages of legislation are other things that people might not know about.
For starters - under the Senate's plan, the Secretary of Health and Human Services would be granted broad new powers - including the authority to decide what procedures insurers should cover and who should get them. I don't know about you, but that idea creeps me out.
Also - Critics say that despite President Obama's promise that illegal aliens won't get health coverage - hundreds of thousands of people here illegally could get just that under this legislation. That's because while the bills making their way through Congress either mandate or encourage businesses to cover all employees - there are no exemptions to screen out illegals, who usually get jobs by using fake identities.
Meanwhile a new USA Today/Gallup poll suggests that despite all the efforts of the president and Democrats to get this legislation passed, Americans are leaning against it - with 49-percent saying they would tell their member of Congress to vote against a bill - just 44-percent say they would want them to support it.
Here's my question to you: Has your support for health care reform increased or decreased in the past 6 months?
Interested to know which ones made it on air?
John writes:
My support for the bills in Congress has died. It's too expensive with no clear evidence that they will actually reduce costs. Looks more and more like a balloon without the skin.
Morgan from Georgia writes:
My support for health care has increased. My support for this particular health care bill has decreased. Yes, we need reform, but we also need reform that will be effective and efficient. This bill is neither.
Katie from Illinois writes:
I support health care reform even more strongly. When you see the health care entities, big business and the Republicans spending millions of dollars to defeat it, that is proof it is the right thing to do. You are always quoting critics but ignore supporters. How about a little more middle of the road, Jack?
Rob from Georgia writes:
Something needs to be done; all this bickering is pointless. I'm tired of all the arguing. Let's just take the reform, get it up and running, and take care of all the problems as it rolls. They had to first make a Constitution before they could amend it.
Guy from Hawaii writes:
Aloha, Jack. I'm SICK of the whole debate. It's unhealthy for me to pay attention anymore. I'm just going to eat my vegetables, exercise and try to maintain a healthy lifestyle. In the meantime, I'm taking 2 Aspirins and calling nobody in the morning that has anything to do with health care, health insurance (biggest rip-off business in the world) or politics. I think I'll feel better!
Reid writes:
Decreased. This government is proving it can't run anything. As usual.
Allen from Idaho writes:
It is strong now and it has always been strong. I don't understand how anyone who has a respect for life and human dignity can be against covering all Americans in a health care system. We live in the richest country in the world and thousands of Americans die every year because they don't have basic health care. We should all be ashamed.
Michael writes:
China will not allow us to have health care reform; it will cost them too much.