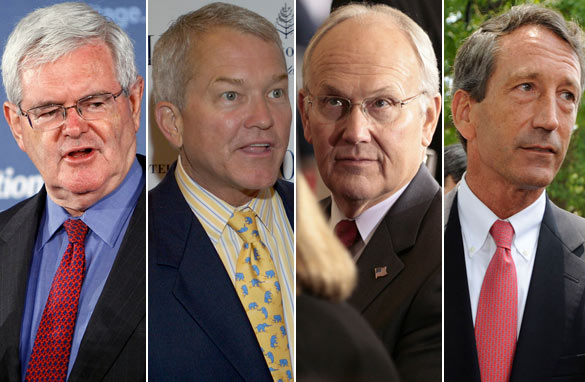 L to R: Newt Gingrich, Mark Foley, Larry Craig, Mark Sanford (PHOTO CREDIT: GETTY IMAGES)
FROM CNN's Jack Cafferty:
It seems the Republicans can't agree on the party's proposed "purity test" which would bar financial support for candidates who don't meet 8 of 10 tests on social and fiscal issues...
These include:
Supporting smaller debt and lower taxes, opposing President Obama's so-called "government run" health care plan, opposing amnesty for illegal aliens, opposing government restriction on gun ownership and supporting the Defense of Marriage Act.
Many Republicans - even some who claim they'd pass the purity test - say it's a bad idea because the party should offer a larger tent. With a Democratic White House that's growing more unpopular, and with Republicans hoping to pick up congressional seats next year, they say this purity test could just cause more inter-party fighting.
Plus it seems pretty hypocritical. Here are a few examples of Republican "purity":
Former House Speaker Newt Gingrich admitted to cheating on his wife around the same time Congress was impeaching Bill Clinton for his affair with Monica Lewinsky.
Former Congressman Mark Foley resigned after reports he sent sexually explicit instant messages to a male Congressional page.
Idaho senator Larry Craig was arrested in an airport bathroom where an undercover cop accused him of soliciting sex.
Or Governor Mark Sanford of South Carolina who went MIA for several days over the summer, lied to his staff about his whereabouts - when he was really visiting his mistress in Argentina. His wife and kids left him, but he's still in office - although probably not for much longer.
These guys define Republican purity.
Of course - Democrats do this stuff too, but they're not the ones trying to sell political purity to the public.
Here's my question to you: Do Republicans suffer a credibility problem trying to sell the idea of "purity"?
Interested to know which ones made it on air?
Gerry from Toronto writes:
It depends on your definition of purity. For the Republicans, it means you can hike naked on the Appalachian Trail, have affairs with some bimbo in Argentina, have affairs with your married employee, find a job for the husband of the wife you're messing with, or play footsies with the guy in the next stall in the men's bathroom. All of that behavior is fine. But God help you if you think folks deserve to have health care; then you're out of the party.
Bill from Baltimore writes:
Don't forget John Ensign, GOP Senator from Nevada. This guy is a real piece of work: had an affair with one of his staffer's wife, then paid off the staffer with a big check and lined him up for a lobbying job where, (it gets better), as a lobbyist, he gets to lobby Sen. Ensign!
David from San Diego writes:
The Republicans are a small-phone booth type of party. I think they should restrict membership (and voters) to white, male, gun-toting, warmongering, evangi-delusionals. Oh, and Sarah Paleface.
Todd from Taunton, Massachusetts writes:
As water has a relationship with oil, the GOP has the same direct relationship with a social conscience. Purity? Don't you mean hypocrisy? No problem having thousands of brave soldiers give their lives in Iraq for corporate oil futures and spend millions an hour doing so, but how dare we want to take care of all Americans with a universal health care program!
June writes:
Both parties fail the "purity" test big time and neither party should be trying to represent themselves as being free of the same moral failings many of the of us demonstrate. The Republicans should position themselves as the anti-Democrat party who will reverse the tax-and-spend course we are on.
Doyle from Canada writes:
Hell no. That would be like me telling other people to lose weight.