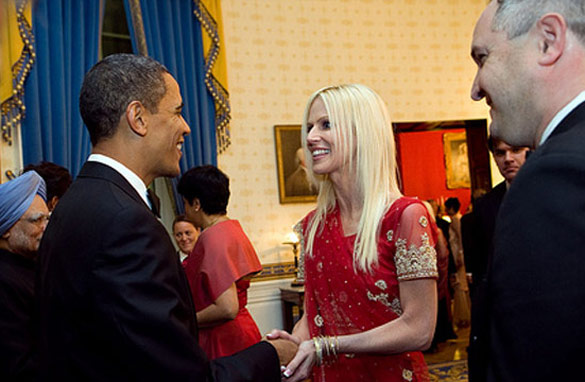 President Obama greets Michaele Salahi at last week's state dinner. Turns out Salahi wasn't invited. (WHITE HOUSE PHOTO)
FROM CNN's Jack Cafferty:
The White House "crashers" are just the latest example of why reality TV may have entered dangerous territory.
Michaele and Tareq Salahi made it past Secret Service and inside the White House for President Obama's first state dinner without being invited. They met the President and the Vice President.
President Obama insists he still has "full confidence" in the ability of the Secret Service to protect his family. But the agency has said it's "deeply concerned and embarrassed" - as it should be.
Some lawmakers want criminal charges brought against the couple. That's an excellent idea.
There are reports the couple wants in the neighborhood of half a million dollars for an interview about their story. They deny it.
And the couple is being considered for the cast of the reality TV show "The Real Housewives of D.C." They had television cameras following them around the day of the state dinner.
Another grab at 15 minutes of fame by people who would live their entire lives unnoticed otherwise. Remember the Colorado father of the so-called "Balloon Boy?"
This loser was trying to get media attention for his own reality show when he made up a story about his six-year-old son being carried away in a home-made helium balloon. He agreed to plead guilty to a felony charge.
Reality TV has given these people the idea that anyone can be a celebrity - and some are committing dangerous, and potentially criminal acts, just to get on the tube.
And to think it all started with a fat, naked guy wading around in the water looking for fish on a CBS program called "Survivor." In retrospect, it seems pretty harmless.
Here's my question to you: Has reality television gone too far when it comes to the White House "crashers"?
Interested to know which ones made it on air?