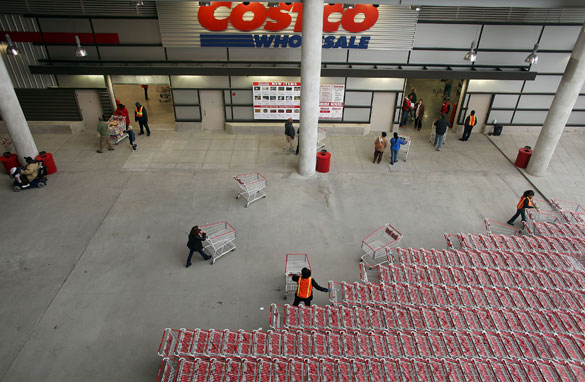 How will your Christmas spending be different this year? (PHOTO CREDIT: GETTY IMAGES)
FROM CNN's Jack Cafferty:
With Black Friday right around the corner - retailers are hoping for a better Christmas shopping season than last year.
And there are some glimmers of hope:
One survey shows Black Friday shopping is expected to pick up more than 16 percent. The National Retail Federation says 57 million people say they'll definitely head to the stores this year - that's up from 49 million last year.
Some stores even plan to extend hours on Friday so people have more time to get in on the "door-buster" deals.
A new Gallup Poll shows consumer spending is up 11 percent from the prior week... Even more impressive is the comparison to the same week last year. Spending is down 7 percent–that's the smallest year-to-year decline so far in 2009.
That's something when you consider consumer spending makes up two-thirds of the U.S. economy.
There is also a big difference in how people say they plan to pay for their Christmas shopping this year. The same retail group reports an increase in the number of consumers who say they plan to use cash, debit or check cards. Credit card use is expected to drop by 10 percent.
The reasons include credit card companies reducing consumer's credit lines and customers' trying to lower their own debt as the recession drags on.
Here's my question to you: How will your Christmas spending be different this year?
Interested to know which ones made it on air?

Shawn from Boston says:
Jack, My wife and I have already completed our Christmas shopping for the year. We have opted not to exchange presents with each other, instead focusing on our daughter. Even though we both have steady employment, with good salaries, we are taking a frugal approach. Many of the items we bought her were purchased on sale or even from e-Bay. You can't be too careful anymore.
James from Seattle says:
Jack, I'm done shopping and paid cash for everything. I also spent 1/4th what I did last year because everyone in my family is hurting and we all agreed; better to spend time together with minimal gifts, than get into debt over things we don't need.
Silas from Boston says:
I'm only buying gifts from locally-owned retailers this year and the gifts will be smaller, more thoughtful. Why spend it in places like Wal-Mart or Target where the profits ultimately go to China? The best Christmas gift Americans can give to themselves is to start trading at local businesses, the TRUE heart of the American economy.
Kristin says:
My time is valuable and I'm not stupid enough to put up with the early hours, lack of merchandise and being jostled by rude, greedy people. We'll be doing most of our shopping online.
Bryant says:
I will no longer use a credit card since they raised their interest rate for no reason.
John from Arizona says:
My wife and I are Arizona state employees. We were both hit with 15 day furloughs last spring. The fear of that happening again will keep our wallets completely closed this season. Spending money just isn't the smart choice right now. Our holidays will be spent with family and friends, and not in stores. That actually sounds really good to me.