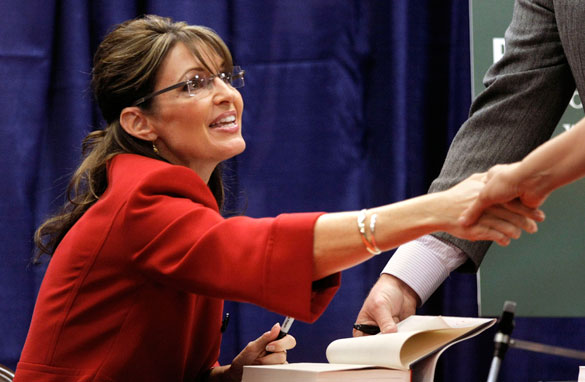 What can President Obama learn from Sarah Palin? (PHOTO CREDIT: GETTY IMAGES)
FROM CNN's Jack Cafferty:
With President Obama now below 50 percent approval for the first time, New York Times columnist Maureen Dowd suggests the president could learn "a thing or three" from Sarah Palin.
Dowd writes that with the former V-P candidate back on the trail for her book tour, she clearly hasn't boned up on anything and "she still has that Yoda-like syntax."
But Dowd warns it would be foolish for the Democrats to write off Palin. She says that although President Obama is highly intelligent and likable - he's not connecting on a gut level with the public. She suggests he might be getting too bogged down in pragmatism and the details of legislative compromises.
Dowd writes that the president, who she calls the "Cerebral One," might want to take lessons from Palin, the "Visceral One."
She writes: "Palin can be stupefyingly simplistic, but she seems dynamic. Obama is impressively complex but he seems static. She nurtures her grass roots while he neglects his. He struggles to transcend identity politics while she wallows in them. As he builds an emotional moat around himself, she exuberantly pushes whatever she has, warts and all..."
Meanwhile – it's clear Sarah Palin is saying something people want to hear. She sold 300,000 copies of her memoir on the day of its release - one of the best openings ever for a nonfiction book, easily topping people like Hillary Clinton.
As for President Obama - the Gallup Daily Tracking poll puts his approval rating at 49 percent - the first time he's dropped below 50 percent since taking office.
Here's my question to you: What can President Obama learn from Sarah Palin?
Interested to know which ones made it on air?

Audrey from British Columbia says:
He could learn that by being ignorant, vapid, divisive and stupid that the media will follow you around and make out that you are bigger and better than you really are. Sarah Palin is a "media phenom" and nothing else – just the fact that you have this question on your program should state the obvious to you.
Ken from North Carolina says:
Jack, I hate to say this but Sarah Palin excites her base. Candidate Obama did the same thing in a much better way, but now as president he has left that position and become a Mr. Suit. I think the lesson he should learn is to get back in his campaign clothes, go up on Capitol Hill and take charge and lead Democratic Senators out of their stupidity.
Chad from Anchorage, Alaska says:
How to be a quitter in the middle of a term.
Danna says:
He can learn (if it's not too late) to stop taking all the press, positive and negative, so personally and seriously. Whether you like Palin or not, you cannot deny that she has risen above the most horrifying and degrading insults towards herself, her husband and her precious children. She's brushed the tire-tracks off her back and surged ahead. That woman has a backbone – and that alone must be foreboding for a president who continues to bow.
Lisa says:
How to make bumper sticker catch-phrases sound like policy to 26% of the nation.
Will from Burlington, Vermont says:
This has to be by far one of the dumbest questions you've asked. Why would he need to learn anything from her? And don't you have anything more interesting to be asking about?
Gary says:
Quit apologizing for America. Wasilla doesn't want to become part of the European Union. Neither do the rest of us.
Thomas from Texas says:
Not to wear shorts on the cover of news magazines if you are to be taken seriously as a politician.